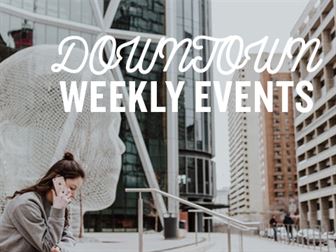 Fashion and fun are coming to downtown Calgary this week! Disability Pride is also making its way to the city centre on Sunday, so make your way down and show your support!
THE MARKET ON STEPHEN AVENUE
We are pleased to announce that the Market on Stephen Avenue is back for it's 3rd year! Join us on Stephen Avenue from 1st SE to 2nd Street West from 10:00am til 4:00PM on the following Tuesdays:
MAY
May 15 & 29
JUNE
June 5, 12, 19 & 26
JULY
July 10, 17, 24, 31
AUGUST
August 14, 21, & 28
You will find up to 60 Vendors from Fresh food, Spices, Sauces, Treats, Art, Fashion, Jewelry and so much more!
Make a Trip to Calgary Downtown for all your Market Needs!
We look forward to seeing you on the "Walk"!
FASHION TREND SHOW – OWN YOUR STYLE
How to "Own Your Style" with Style Expert Taylor MacDonald.
First Seating: 12:30pm – 1:00pm
Second Seating: 4:30pm – 5:00pm
Change up your lunch time routine and join us at Hudson's Bay Calgary Downtown for an exclusive Trend Talk with expert stylist, Taylor MacDonald*. Learn how to create your personal look with this seasons "Must Haves".
Taylor is here to show you the tips and tricks on how to make your style both effortless and versatile with a career focus. Models featuring our spring looks will be size 6 and up.
DOLLY WIGGLER CABARET FEAT. MOOKY CORMISH
Come to the Dolly Wiggler Cabaret, ol' chum, for an extremely popular night of short form puppetry for adult audiences.
Mooky, our glorious compére is back from touring with an Italian circus to host the cabaret in most hilarious fashion with vaudevillain Shane Baker. Be entranced by work from Calgary greats Jen Lynn Bain, Pape and Taper, Long Grass Studio, Alice Nelson, Elaine Weryshko, and more.
Take advantage of not-to-be-missed folks from far away, in town for the Puppet Power conference: Puppetmongers Theatre (Toronto), Andrew Periale (New Hampshire), Emma Fisher of Beyond the Bark Theatre (Ireland).
It's wild, weird, and always entertaining!
18+
Early Bird Tickets $25 (until May 1)
Regular Tickets $30 (after May 1)
VIP Seating (Front row!) $40
DISABILITY PRIDE 2018
Disability Pride is an exciting international movement that is growing fast. Annual parades take place in Vancouver, Toronto, New York City, Chicago, and London, England. It's time for our community here in Alberta to join in the celebration!
Our goal this year is to have 1000 people gather on Stephen Avenue and march into Olympic Plaza , where there will be music, food, people and fun!
UPCOMING EVENTS
The Mayor's Environment Expo
June 5 – 7, 2018
The Mayor's Environment Expo is a celebration of excellence in environmental education and stewardship for Calgary's youth, and inspires students and families to take simple actions to protect our environment.
Third Action Film Festival
June 8 – 10, 2018
Presenting a variety of feature length, short, animation and documentary films that either feature older adults in leading roles or address issues with being an older adult.
Jazz @ Stephen Avenue Mall
June 13 & 14, 2018
The JazzYYC Summer Festival presents the Stephen Avenue Mall Lunch Series. Shows are outside on the downtown summer stage, and are completely free and family friendly.
Sled Island
June 20 – 24, 2018
Each June, the five-day music and arts festival brings together a community of more than 250 bands, comedy, film and art as well as over 30,000 attendees in more than 35 venues.
View more events
If you want to see more events happening this week and the weeks to come, visit our Event Calendar.
Share your event
Have an event happening downtown? We want to hear about it! Either Add Your Event or email us at [email protected]
---