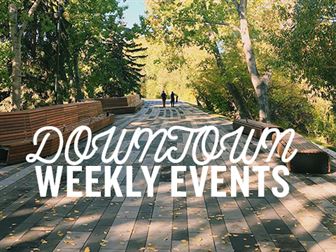 This week downtown Calgary is showing you real life worth watching at CUFF.Docs, daily music at the mall, and family comedy with Zorro: Family Code!
DAILY HOLIDAY PERFORMANCES AT THE CORE
November 22 – December 24, 2018
The CORE is excited to open our doors to the Calgary arts community this holiday season! We will be welcoming performance groups of all ages from all over the city. All performances will take place over the lunch hour from 12 PM -1 PM in front of our 45ft. Christmas Tree.
Full Performance Schedule can be found on the CORE website
ZORRO: FAMILY CODE
November 27 – December 29, 2018

The legend lives on…
In 19th century Spanish California, a heroic (but aging) masked outlaw known as el Zorro gets some unexpected help defending the small village of Los Angeles against his arch nemesis, Sergeant Pablo Gonzales.
A swashbuckling, adventure-filled comedy about family, honour and choosing the mark you want to leave on the world.
IF YOU LIKE: The Legend of Zorro, Pixar's The Incredibles, Princess of Thieves
Audience Considerations: Suggested for ages 5+
CUFF.DOCS
November 28 – December 2, 2018

We're heading into our 6th year of CUFF.Docs, showcasing the best in non-fiction films during the Calgary Underground Film Festival's five-day documentary festival. The festival screens 12 full-length features, as well as shorts, varying in subject, style and genres within the art form.
At CUFF.Docs, the quality of the film is what matters most; we don't book films to make political statements or advocate for particular issues. Instead, we hope to present a range of films that both confirm and challenge beliefs, promoting a sense of wonder and a healthy skepticism, and above all, that continue to advance the medium of documentary filmmaking.
Tickets to the festival cost $10 ($8 for members, students and seniors).
CALGARY NIGHT MARKET
November 30, 2018

Location: Eau Claire Market Centre Court
Calgary Night Market is excited to bring you authentic, night market festivities throughout the year. Featuring cultural street foods, local entertainment and a diverse range of vendors, you'll be looking forward to sundown!
Location: Eau Claire Market Centre Court
Time: 5pm – 11pm
UPCOMING EVENTS
30th Annual Calgary Community Menorah Light
December 3, 2018
With sharing and gifts of warm clothing for those in need, Calgary's Jewish community invites the public to join us as we celebrate the 30th Annual Community Chanukah Menorah Lighting Ceremony
The Sled Island Gong Show
December 16, 2018
Sled Island is hosting a super fun, super weird talent show! If you have a bizarre or surprising talent, we want to see it at the Sled Island Gong Show at the Palomino Smokehouse & Social Club.
A Traditional Christmas
December 7, 2018
Presented by the Calgary Philharmonic Orchestra. Celebrate the spirit of the Season with a selection of holiday favourites.
View more events
If you want to see more events happening this week and the weeks to come, visit our Event Calendar.
Share your event
Have an event happening downtown? We want to hear about it! Either Add Your Event or email us at [email protected]
---