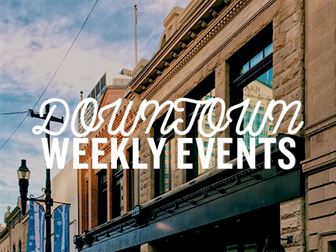 December has arrived and all your favourite holiday events have arrived with it. Santa photos, menorah lighting, and winter murals are all showing up for downtown visitors this week, keep reading to find out more!
NORTHERN REFLECTIONS
November 13 – December 31, 2018
Between November 13 – December 31st, Calgarians will have the unique opportunity to participate in and engage with an immersive art experience unlike any other. Buds of Buds Collective will be hosting their second annual Northern Reflections urban art gallery through a series of painted windows that uses Augmented Reality (AR) technology to animate each window through smartphone devices. The series will be
created by a variety of local artists and will stretch throughout Calgary's downtown core, showcasing many participating local businesses and transforming the city streets into a grand urban art-walk.
Augmented Reality (AR) adds graphics, sounds, touch and feedback into what we already see in front of us, through a device like an app on your phone. AR uses an existing display and overlays virtual information on top of it. You've probably already encountered AR without even realizing it – think Snapchat filters and Pokémon GO. Unlike Virtual Reality (VR) which transports you to a different world, AR transforms your own personal reality and perspective.
FREE SANTA PHOTOS AT THE CORE!
November 22 – December 23, 2018
Join the CORE this holidays season as we welcome Santa downtown every Thursday – Sunday starting November 22 – December 23!
Santa will be sitting with children on a giant red chair amongst a forest of Christmas Trees on level 2 of the CORE (glass bridge near Holt Renfrew).
Photos with Santa are complimentary and are to be taken with your smartphone so you can easily share them with friends and family! If you post the photo of your child with Santa and use #FindChristmasDowntown your photo will automatically print out at our hashtag printer!
Photos will also be available for download on the CORE's Facebook page every Monday following weekend visits.
30TH ANNUAL CALGARY COMMUNITY MENORAH LIGHT
December 3, 2018
With sharing and gifts of warm clothing for those in need, Calgary's Jewish community invites the public to join us as we celebrate the 30th Annual Community Chanukah Menorah Lighting Ceremony at City Hall's Atrium Monday, December 3rd at 5:30 pm.
Members of Calgary City Council will be participating in this year's ceremony. Throughout this year's program, we will be showing highlights of the past 30 years of celebrations.
Each year hundreds of Calgarians come to join community leaders and dignitaries as they celebrate with the lighting ceremony, traditional Klezmer music, dancing, and eating traditional potato pancakes called "latkes".
5TH ANNUAL ACAD FILM FEST
December 5, 2018
HORSE CLUB is very excited to present the 5th Annual ACAD Film Fest!
The evening will include a screening showcasing various short films and animations created by ACAD students, staff and alumni!!!!!!
Doors open at 6:30pm and the event will begin at 7pm. Admission is free and all are welcome! Popcorn and beverages will be available at the Globe Cinema bar and concessions for purchase.
Bring friends and family 🙂
UPCOMING EVENTS
It's A Wonderful Life: A Live Radio Play
November 26 – December 22, 2018
Conceived as a live 1940s radio broadcast, complete with on-the-fly Foley sound effects, this classic holiday story of love and redemption will be brought to life on stage by our Betty Mitchell Award-winning ensemble.
The Sled Island Gong Show
December 16, 2018
Sled Island is hosting a super fun, super weird talent show! If you have a bizarre or surprising talent, we want to see it at the Sled Island Gong Show at the Palomino Smokehouse & Social Club.
A Bright Magical Christmas
December 18, 2018
ABM College will be spreading Christmas cheer by providing Calgarians with free hot chocolate, sweet snacks, and the joyous carolling of the staff and students who are organizing the event.
View more events
If you want to see more events happening this week and the weeks to come, visit our Event Calendar.
Share your event
Have an event happening downtown? We want to hear about it! Either Add Your Event or email us at [email protected]
---