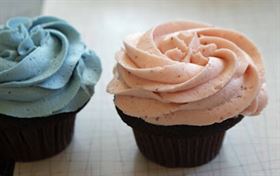 I can't stand to think of all the time I wasted not knowing about Bliss & Co. I had heard about it, lots, and even heard rumour of how great their cupcakes were. The best in the city, even. (They won best overall cupcake in a taste test at Avenue Magazine. For real!)
Well. I'm a bit of a cupcake fan. Those are big words. I think I was afraid to confirm that cupcakes that good were available so close to where I live.
Eventually I gave in and my four year old and I went downtown for cupcakes, in the name of research. We were not disappointed. They were indeed among the best I've eaten - the strawberry swirl tasting of real strawberries, the cake itself dense, moist and not overly sweet. They were perfection. And with a lower price tag than at other cupcakeries. (There's a great cupcake price comparison here.)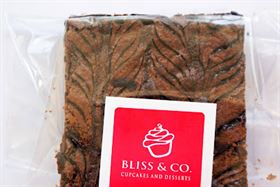 I was ecstatic to find it wasn't just cupcakes they excelled at - there were dense, fudgy brownies, too - a rare thing in Calgary. And the women who own the company and do the baking were wonderful - we chatted for ages (far longer than my 4 year old would have liked, although he was well distracted by a chocolate cupcake) before we left with cupcakes and brownies, promising to come back that weekend for pie.
Oh the pie. Honestly. Some of the very best pie in Calgary, if not the best. Just look at it! This was the apricot hand pie. I didn't even share. I don't regret it.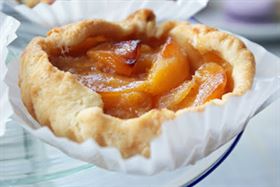 There were coconut cream pies, filled with layers of ganache, house-made caramel, coconut pastry cream and whipped cream. And then there were fruit-filled hand pies - apricot, cherry, and strawberry-rhubarb on the afternoon I was there. I took them all and ate two on the way home. Everything - pastry included - was made from scratch. The pies - larger than tarts, smaller than galettes - were loaded with fresh fruit, and were not at all stodgy, the way some cornstarch-thickened fruit pies can get. They were bliss.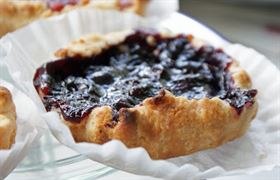 The cherry hand pies were among the best things I've ever eaten. (Yes, I said they - I ate two. Totally worth it.) Over the course of the summer I'll be making many a pilgrimage downtown for cupcakes, brownies, and especially pie from Bliss & Co. Who needs ice cream and popsicles?
Bliss & Co. is at 108-3rd Ave. SW, lower level, or visit their website.