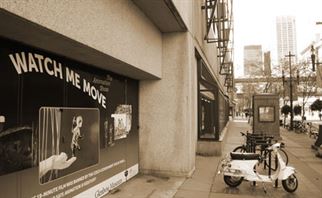 The Glenbow Museum's latest exhibit, Watch Me Move: the Animation Show, presents 111 films that span several years and range in popularity. This is the only Canadian stop before the exhibit goes on tour in Asia, so make some time before December 24, 2021 to see it (you may want to have time for more than one visit).
Ever since I heard there was going to be an animation exhibit at the Glenbow Museum I've been looking forward to it. Yesterday, I got my first look.
The collection is presented in six themes, rather than chronologically, so you could visit in any order you like. They also have several suggested highlight tours that focus on different aspects of animation. As for me, I'm a wanderer so I just started with the biggest screen and drifted around from there.
There's no set time given to see the whole exhibit, but I imagine it would be several hours if you tried. There are enough screens (I didn't count but if you're keen, go ahead and tell me the answer in the comments) that you can always find one to watch, lingering as your interest dictates.
The films are presented as art, rather than a 'how-to' of animation making it easier to appreciate clips of some of the most well known animation sequences on their own, as opposed to the whole movie. Although really, who doesn't find the lifelike animation of a T-Rex eating an SUV impressive?! I know I still do.
My favourites were Tim Burton's Vincent and Studio Ghibli's Nausicaä of the Valley of the Wind (clip). This was due as much to their presentation as to the films themselves. In the room you could hear the buzz of each film, but within the booth you could only hear that film's sound.
There are also many films you won't recognize (unless maybe you're an expert), but that's part of the fun of the show.
If you like movies, cartoons, comics or anime I think you should see this exhibit. If you don't? I still think you'll like it.
Plus, you need to see Falling Cat.
Photo Credit: Steven Spielberg, Jurassic Park, 1993, Courtesy of Universal Studios LLC
Related Posts
---