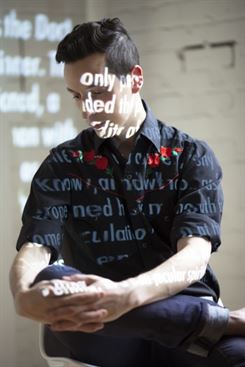 Spark, part of the Fluid Festival is all about encouraging emerging artists to create and collaborate in new and creative ways.
It's basically a series of creative blinds dates. Artists get two weeks to create a ten minute piece that is a collaboration of their respective practices. Spark is "an evening of risk" as co-curator Kristofer Kelly calls it.

First up, Jamie Tea and Chris Mandseth with a futuristic, interactive piece. This work was engaging with the audience in that they could text words to the phone number provided and their fragments of thought would appear on the projector. Tea did a movement piece, dressed up in a futuristic, gold ensemble.
The  next work focused on constraint and release, created by Jennifer Akkermans and Veronica Benz. Featuring Benz dancing in orange and red light, with an audio piece that illustrated releasing the mind from constraint using meditative practice, this piece played with bigger concepts and was well done.
Lisa Benshop and Christopher Duthie's piece was entitled Paradolia (finding images in abstracts, like the clouds). It blended theatrics with visual art and choreography. Using a slide projector, a white board and a magnifying glass has never been this fun.
The most compelling piece of the evening was created by Joshua Fraser and Leda Davis. Exploring movement and sound performance, this presentation was warm and funny. Fraser and Davis honed their collective skills to bring their personal charm to the stage.
Shara Rosko and Naomi Brand combined visual arts with theatrics using a slide projector and different poses and props. The piece utilized light to create different images.
The last work of the evening was a collaboration between Khan Barrera and Serenella Arguetta. The work melded video and dance, based on the awkwardness of watching your own belly button on a video.
Spark is a great compilation of collaboration across disciplines. It is an ensemble of "beautiful clashes and perfect harmonies" as co-curator Jessica McCarrell says. It is an effort to bring pieces together to create resolved work.
Photo: Chris Mandseth
The Fluid Festival takes place in Calgary until October 25th. More information and tickets available online.

Related Posts
---