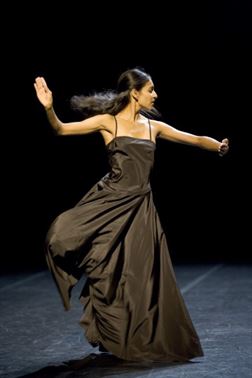 Shantala Shivalingappa is a dancer that captivates audiences. She has performed for many across the globe, and she was in Saturday night at the Theatre Junction Grand to dance her show entitled Namasya.
Namasya, in Sanskrit, meaning  in homage or in remembrance.
Shivalingappa's performance was divided into three distinct solos, the division marked by a costume change and video recordings of her dancing. The first dance, Shivalingappa was in white and the music was a steady medley of flutes and sitar. Her movements told a story of birds and nature and the movements were fluid and lovely.
The second performance was choreographed by Shivalingappa herself and was danced in a flowing black dress. The dress wasn't particularly fitting, and this reviewer was slightly disappointed to be missing the distinction in movement that spare clothing would provide. This piece was more lively by comparison.
For the last piece, the costume change was to black pants and a black tank top. This piece was all about stillness. Shivalingappa had her back to the audience, and performed mostly this way. Her face was in shadow but her back was lit and the audience could see the simple nuance in movement. This solo stood out from the rest as it held the audience's attention. The vast space of Theatre Junction Grand seemed to take away from the intimacy of the first two pieces. And it seemed like the theatre was a big space for one person to fill, even someone with the grace of Shivalingappa.
The performance blended traditional Kuchipudi dance and contemporary in a beautiful homage, that danced on the edge of meditation and devotion.
Photo Credit: Laurent Philippe
---