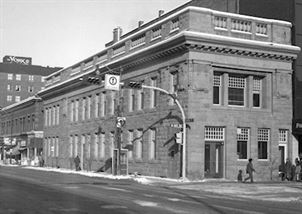 This week's old Throwback Thursday picture, taken in 1978 by Boyd Waddell Photography, looks at the Imperial Bank of Canada Building on 100 8 Avenue SE, at the corner of 8 Avenue and Centre Street.
Built in 1886, the building embodies the Neoclassical architectural style.  The original owner of the site was the I.G. Baker Co. which had arrived in 1875 to provision the North-West Mounted Police.  By 1892, the Imperial Bank of Canada purchased the site and renovated it.
From 1903-1906, the upper floor held the offices of Sifton, Short and Stuart, Barristers, Notaries, etc.  Arthur L. Sifton was the elder brother of Clifford Sifton who was Minister of the Interior from 1896-1905, and was Premier of Alberta from 1910-1917 and one of Canada's four representatives at the Paris Peace Conference in 1919.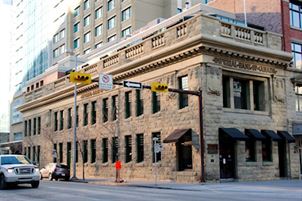 Today, the building has been completely renovated and currently houses Catch & The Oyster Bar, a fresh seafood restaurant which has occupied the space since 2002.
Many changes have been made to the site since.  For example, the Hyatt Regency Calgary hotel now looms in the background incorporating many historical buildings in the area into its design, and The York Hotel, which you can see in the background of the first photograph and built some time in 1929-1930, no longer stands as originally built, as it had to be demolished in order to make way for The Bow.  But, before being demolished, 70-80% of the bricks used in its construction have been saved and numbered and will be reconstructed and incorporated into the outer facade of The Bow building.
That's it for this week's Throwback Thursday.  Tune in next week and every week in 2012 for more glimpses into the past of Downtown Calgary.
Do you have any photos of downtown Calgary from the past you want to share with us?  If so send us an e-mail [email protected]
Related Posts
---