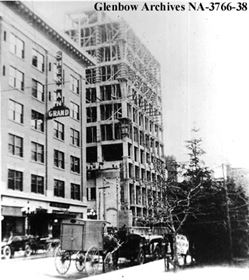 This week's Throwback Thursday photograph comes courtesy of the Collection of the Glenbow Museum Archives, and it's of The Grand Theatre, a fitting theme as The Grand will be celebrating the 100th anniversary of the first performance in the theatre this week.
Designed by architect L.R. Wardrop and built alongside Lougheed Block in 1911 (which was originally built to accommodate retail stores, offices and living quarters) by Sir James Lougheed, The Grand Theatre was the largest and best theatre in the Pacific Northwest.  In fact, the first theatre, opera, ballet, symphony concerts and movies in Calgary were all seen here.  Such was the theatre's prestige that it attracted many international acts and stars such as Fred Astaire, Sarah Bernhardt, the Marx Brothers and more to perform at the venue.
The theatre was modern for its time; all 15 changing rooms beneath the stage had hot and cold water, as well as electric lighting.  The original theatre had 1,350 seats with 810 on the main floor and 540 in the gallery.
With the opening of the Jubilee Auditorium in 1957 and its more modern facilities, the 1960s saw the theatre decline as a cultural hotspot in the city and The Grand became primarily a movie house.  After several changes in ownership and several incarnations which included an indoor golf driving range and potentially a parkade, as well as a fire in 2003 that temporarily closed the building, the Theatre Junction Society raised $12 million to purchase The Grand in 2005, and The Grand Theatre relaunched as Theatre Junction GRAND in March 2006.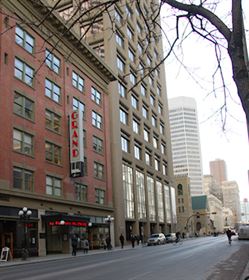 The current theatre can be configured into eight different seating layouts with a maximum capacity of 440 people.  The theatre hosts all sorts of contemporary performances from Calgary and around the world, and can even be booked to host corporate and private events as well.
2012 is the centennial year of many major institutions in Calgary, and this week marks the 100th anniversary of the first performance in The Grand Theatre, which occurred on February 5, 1912.
As such, Theatre Junction GRAND is holding a 12-hour long celebration starting at 2 p.m. on Saturday, February 4 and ending at 2 a.m. on Sunday, February 5 and everyone is invited!
Featuring some of Calgary's most popular and respected artists including Dan Vacon of the Dudes, DJ Pump, Mandy Stobo (from Bad Portraits) and many more, as well as a sneak peek preview of the upcoming show Attempts on Her Life, everyone's invited to help celebrate 100 years of culture in Calgary and at The Grand.  To learn more about the centennial festivities, check out the event page at Theatre Junction GRAND.
That's it for this week's Throwback Thursday.  Tune in next week and every week in 2012 for more glimpses into the past of Downtown Calgary.
Do you have any photos of downtown Calgary from the past you want to share with us?  If so send us an e-mail [email protected]
---