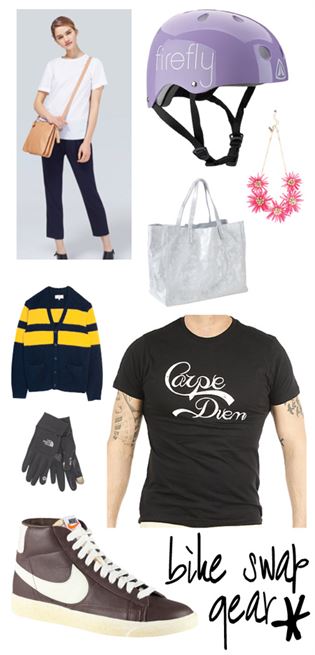 It is officially bicycling season! There are always a few tell-tale signs to let us know that the season has arrived and you can see them everywhere downtown. Outside music venues and movie theatres you will always see lines of bikes locked up. You'll see folks walking out of the downtown bike shops with their new cycle ready to hit the pathways. We even see slightly less traffic in the morning commute with more green thinkers taking the two-wheeled approach to the day. All in all, we just see more fabulous downtowners in their cycling best making the rounds.
Anyone looking for a new ride or wanting to upgrade their current bicycle for something shiny (maybe a tandem?) will be happy to know about the Alberta Bike Swap on May 4th. Located at 340 10th Avenue SW from 8AM to 5PM, this one day buy+cycle is run by two awesome Calgarians who plan this every year to promote cycling in the city. All bikes have been tech-checked and all serial numbers have been recorded. You know you'll be getting a great bike when you stop at the swap.
Over 3000 enthusiasts showed up last year so you'll want to get there early to scope out the selection. I pulled together some great cycle-ready looks for the spring so you will be able to show up and ride away in style.
For her:
Nakamura Freestyle 306 Sport Helmet, Sport Chek
Leather Tote, Gap
iPad Cache Purse, Aritzia
Kate Spade Necklace, Holt Renfrew
For him:
Jack Spade Cardigan, Holt Renfrew
Carpe Diem Tee, Bluenotes
Riding Gloves, Little Burgundy
Nike Hi-Tops, Little Burgundy
---