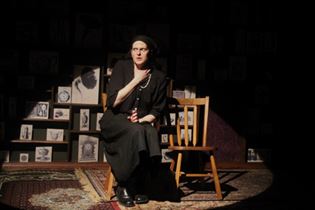 Doug Wright's I am my own wife is an award-winning play that premiered in 2003 but has never been produced in Calgary, until now. The play is based on the playwright's conversations with German Charlotte von Mahlsdorf, who survived both the Nazi occupation and Communist regime in East Berlin. Charlotte was born Lothar Berfelde and the unique aspect of her story is that she survived through the years as a transgendered person.

Third Street Theatre's production of I am my own wife, directed by Kevin McKendrick and starring Paul Welch in thirty six roles is a work of labour and love. Welch transitions between characters seamlessly and embodies the character of Charlotte in mannerism and accent. Deitra Kalyn has him dressed in a simple black dress with a string of pearls around his neck and comfortable black shoes, as described in the play and her set design helps to bring the play to life. She also opted for very little in terms of props, letting Welch's talent indicate a character change. The backdrop is lined with old pictures of photographs, chairs and clocks. This stands as Charlotte's museum, Das Grunderzet and it's a clever way of representing the setting. David Smith's lighting design allows a scene change and coupled with Trevor Leigh's sound design and title designs, it immerses the audience in the story.
That's the outstanding aspect of this production. It's very good storytelling and amazing design combined with immense talent. Audience members will forget that there is only one person on stage and be taken by von Mahlsdorf's affinity for collecting old things and the way she takes care of them. It's drama and humour woven into a great story that's missing a few threads, as Mahlsdorf's accounts of her life don't always line up, but you learn to love it. It is also a beautiful telling from a transgendered point of view, something you don't see very much of on Calgary stages.
I am my own wife is the second production for the brand new theatre company Third Street Theatre. The play runs until May 4th at the EPCOR CENTRE'S Motel. Tickets and more information is available online.
Photo Credit: Bree Gardner
---