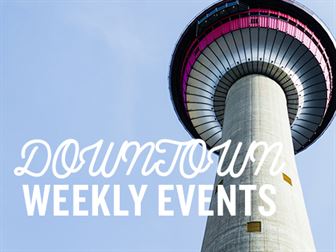 The Market on Stephen Avenue is finally back on the walk! If markets aren't your thing don't worry, we have plenty of other great options for you this week so come out and enjoy the weather.
URBAN STORIES THEATRE
May 13 - 19, 2018
Knox Theatre Collective and Archtype Productions present A Woman of a Certain Age
A Woman of a Certain Age® is a sometimes hilarious, sometimes poignant, always truthful portrayal of six women who, as they grow older, are pushed to the edge by the demands of family and career, struggling with the changes and losses that accompany becoming an invisible woman in a culture obsessed with youth and beauty. This solo show is for men and women of all ages, from adolescent to geriatric. It won Best of Fest at the 2015 Calgary International Fringe Festival, playing to sold out audiences there and at the 2016 Edmonton and Lethbridge Fringe Festivals, and the 2017 Regina and Winnipeg Fringe Festivals.
MoreHAPPENINGS 12
May 14, 2022
Happenings 12 at Arts Commons is an experimental art party filled with new exhibitions, installations, live performances, and musical projects in celebration of our current visual art exhibitors. For this Happenings event "Whimsy and Play" inspires conversations about youth and family, and experimental art collisions. So if you the love the art of lines, analog photograph, urban design, and sculpture, then come to Happenings - where art is never flat!
MoreTHE MARKET ON STEPHEN AVENUE
May 15, 2022
We are pleased to announce that the Market on Stephen Avenue is back for it's 3rd year! Join us on Stephen Avenue from 1st SE to 2nd Street SW from 10:00am til 4:00PM on the following Tuesdays:
MAY
May 15 & 29
JUNE
June 5, 12, 19 & 26
JULY
July 10, 17, 24, 31
AUGUST
August 14, 21, & 28
You will find up to 60 Vendors from Fresh food, Spices, Sauces, Treats, Art, Fashion, Jewelry and so much more! Make a Trip to Calgary Downtown for all your Market Needs! We look forward to seeing you on the "Walk"!
OTAFEST
May 18 - 20, 2018
OTAFEST is an all-ages, 3-day Japanese animation festival featuring anime screenings, a large exhibitor hall, community-run panels, cosplay contests, gaming, and much more! Each year, Otafest also brings you voice actors as well as musical and industry guests to host panels, autograph signings, and meet & greets!
Calgary International Children's Festival
May 23 - 26, 2018
Discover a World of Wonders on May 23-26th with 10 exciting shows featuring the best in performing arts for young audiences.
Stage One Festival Of New Canadian Work
May 25 - June 9
Come and be a part of the process of creation. Attend the free workshop readings and help us shape the new plays that will grace the Lunchbox stage in years to come.
Disability Pride 2018
June 3, 2022
The goal this year is to have 1000 people gather on Stephen Avenue and march into Olympic Plaza , where there will be music, food, people and fun!
The Mayor's Environment Expo
June 5 - 7, 2018
The Mayor's Environment Expo is a celebration of excellence in environmental education and stewardship for Calgary's youth, and inspires students and families to take simple actions to protect our environment.
View more events
If you want to see more events happening this week and the weeks to come, visit our Event Calendar.
Share your event
Have an event happening downtown? We want to hear about it! Either Add Your Event or email us at [email protected].
---
---