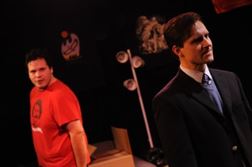 When Drew Hayden Taylor was in Calgary for a Word Fest event, he happened to accidentally run across Downstage Theatre's office. He immediately sent artistic producer, Simon Mallett an email. Taylor is a an award-winning playwright with over seventy productions of his work, as well as a columnist, short-story writer, novelist and scriptwriter. Mallett found that Taylor's work was very connected to Downstage's mandate and the rest as they say, is history.

In A World Created By A Drunken God tells of Jason Pierce, a Canadian half Native man, who is packing to return to life on the reserve where he grew up when Harry, walks into his life and introduces himself as Jason's half brother. He wants Jason to be compatibility-tested for a kidney match, for their dying non-Native father. Someone Jason has never met.
Downstage Theatre is dedicated to the production of provocative Canadian performance. In A World Created By A Drunken God, a co-production with New West Theatre is most certainly a socially and politically charged theatre piece. "We try to do work to reflect the society that we live in," says artistic producer Simon Mallett, "producing the work of a First Nations playwright has been something I've been very interested in doing for a long time."
The play explores some heavy themes, questioning what it means to be human, when labels and identity politics are stripped away. "It's an engaging personal story and a story that I think everyone can have a relationship to regardless of the cultural perspective that they are viewing it from," explains Mallett. "It's a play that raises some questions," he adds.
In A World Created By A Drunken God definitely will raise some questions. And create a dialogue that Mallett is hoping will go beyond just awareness, "it's about examining your views [as well], examining your own perspective on what your actions would be, and how that illuminates how you feel about the situation".
Taking on the political issue of First Nations people is something new for Downstage as well having it run in two different cities. "New West Theatre identified it as a play that would do very strongly in Lethbridge, with the presence of the First Nations community there," Mallett explains. Downstage did rehearsals in Calgary, then the show had it's run in Lethbridge, and it's returning to Calgary as the opening of the season. "It's a pretty well oiled machine," Mallett says, "we're able to go and tighten things up [for the run in Calgary]."
Taking on some pretty serious issues isn't without it's humour though. "The play has a great sense of humour even thought it's got compelling human drama at the core of it," Mallett explains, "you get a laugh in between really intense drama."
We're in for a pretty wild ride.
In A World Created By A Drunken God runs October 12-22 at the EPCOR CENTRE's Motel.
More information and tickets can be found online
Photo: Jesse Wheeler as Jason and Phil Fulton as Harry. Credit: Tim Nguyen.
Related Posts
---