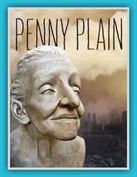 Ronnie Burkett Theatre of Marionettes is entering its 25th year. That's 25 years in the art of making audiences laugh, cry and feel pure and complete joy. Penny Plain is all that and more.
The play opens to announcements of the news in voice-over. It is clearly the end of the world, as we know it, and thing are changing for the blind Ms. Penny Plain. She is looking for a replacement of her dog and companion Jeffrey. Yes, a replacement. There are actually many applicants for the role. We eventually meet a girl who poses as a dog, a cross dressing banker, an old lady who thinks that the house always smells, Geppetto the puppet maker and more.
The marionettes, all created by Burkett, are mesmerizing. They seem to exhibit emotions on their faces. They are just as real as you or I. And Burkett outdoes himself in the sheer number of characters and costume changes (as it's a new construction, each time there is a costume change). Kevin Humphrey designed the lighting brilliantly as the audience isn't distracted by the strings.
Burkett's world is full of imagination and quirky characters. A world where dogs talk and Pinocchio is a real boy and the world is coming to an end. We are cheering for Ms. Plain, she is the embodiment of dignity and civility. We are with her when she says that 'we shouldn't all succumb to our base urges, where would we be?' Right here, is the response she gets. The outside world is closing in on her, even the grass is growing through her living room.
It is slowly coming to an end. The reports trickle in about a viral epidemic, and the death toll and how governments around the world are coping. And though fellow audience members were laughing, this reviewer felt that they did so, because there seemed like there was nothing left to do. Granted, the news announcements were full of irony and satire. News coming from the minister of 'remaining resources' and the GLBT's position, stating that they should defend their right to party. But the reports were eerily realistic. And the audience was filled with a very real sense of horror. This isn't a Hollywood production of the apocalypse. This is a quiet subtle story of how when every institution and semblance of structure is beginning to crumble, people lose their humanity.
This is theatre. At it's best.
Don't miss Alberta Theatre Projects presents Ronnie Burkett Theatre of Marionettes in Penny Plain. It runs until November 6th. Tickets are available at atplive.com
Related Posts
---