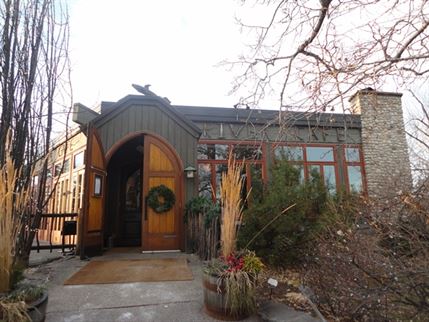 There are few places to dine in Calgary that are as picturesque as the River Café.  As hokey as it might sound, there is something almost magical about the place.
Set smack-dab in the middle of Prince's Island Park near the lagoon where the Bow River passes through downtown, the location will charm you with its natural beauty, and the rustic fishing cabin vibe will make you feel welcome and cozy.
Since it is only accessible by foot, you can enjoy a short jaunt over a little bridge from Eau Claire and down a path into the gorgeous park on your way there.
And then comes the food!
I have only had the opportunity to dine there twice. The first time was during an event at last year's "The Big Taste". Their delicious "seasonal Canadian cuisine" was fresh and paired perfectly with wine. It was definitely a memorable meal.
The second time was recently on a beautiful fall afternoon.  We curled up by the fire with some drinks and appies and it was a fantastic way to spend a lazy Sunday!
We tried the Fish & Game Board (pictured above), which was a deluxe assortment that included Duck Paté, Candied Salmon, Smoked Bison, Rillettes Steelhead Lox, Sylvan Star Gouda, House Pickles, Brassica Mustard and Housemade Crackers. The Ginger Snaps martini and Theo Organic Fair Trade Hot Chocolate with homemade marshmallow were a lovely compliment to this delicious snack.
With a number of significant accolades under their belt, including Tourism Calgary's 2011 White Hat Award for Best Restaurant and Avenue Magazine's 2011 Best Place to Take Out of Town Guests, the River Café also boasts a wine list with 420 selections and 5,000 bottles in the cellar.
They celebrated their 20th Anniversary in November and continue to show us why they are a local favourite.
Whether you're looking for a romantic dinner with your significant other, a weekend brunch with friends, or a decadent meal to enjoy at home (they are now offering a "Christmas Turkey in Your Home" menu), you can find it all at the River Café .
If you have any special memories from the River Café over the last 20 years we'd love to hear them!
Still looking for a place to spend New Year's Eve?  They are offering special tasting menus with selections from their award-winning wine cellar.  More details can be found here.   
Please note that they will be closed on Christmas and for the month of January.
Related Posts
---