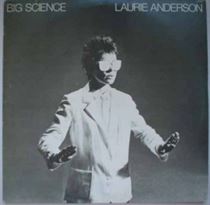 It's only fitting that a performance artist as diverse and as revered as Laurie Anderson should be the 2012 High Performance Rodeo artist-in-residence, stepping into the shoes vacated most recently by Brian Eno.  Like Eno, Anderson is a pioneer of electronic music, a highly influential innovator, a visionary artist.  Like Eno, Anderson is sure to draw crowds of superfans, breathless with excitement over being in the presence of musical genius.
For those less familiar with Laurie Anderson's hefty pedigree, here's a little primer:
Laurie Anderson was NASA's first artist-in-residence.  The experience inspired her performance piece The End of the Moon, which she performed the last time she was in Calgary, in 2005.
Laurie Anderson invents instruments.  Predating Harry Potter's custom-made wand by 30 years, she devised a tape-bow violin, which uses recorded magnetic tape in place of the traditional horsehair in the bow and a magnetic tape head in the bridge.  This was followed by a six-foot talking stick, which breaks sound into grains and rearranges the fragments into strings or clusters.  And then, of course, there are the infamous audio drag voice filters that Anderson developed, which spawned the recurring character of The Voice of Authority.
Laurie Anderson knows everybody.  She has collaborated with William S. Burroughs, Brian Eno, Philip Glass, Andy Kaufman, Lou Reed, John Giorno, Peter Gabriel, John Michel Jarre, Bobby McFerrin, David Sylvian, Colin Stetson, and on and on.
Laurie Anderson is married to Lou Reed.  Can you imagine the conversations they must have while washing up the dishes together?
Laurie Anderson has a really long resume.  In addition to the accomplishments already mentioned, Anderson holds an MFA in sculpture, has illustrated children's books, has drawn comics, has written books, has starred in and directed films, has written for the Encyclopaedia Britannica,  has visited the Russian Space Programme, has been part of a team that created the opening ceremony for the Athens Olympics, has written film soundtracks (including Swimming to Cambodia), has performed PSAs, and was awarded the 2007 Gish Prize for "outstanding contribution to the beauty of the world and to humankind's enjoyment and understanding of life".
One suspects Ms Anderson never forgets to take her vitamins.
During her stint as High Performance Rodeo's 2012 artist-in-residence, you have loads of opportunities to see Laurie Anderson being her usual diverse self:
Wednesday, Jan 11 - Saturday, Jan 14, 8:00 pm
Theatre Junction GRAND
608 - 1st St SW
Another Day in America  (performance)
Sunday, Jan 15, 4:00 pm
Cantos Music Foundation
134 - 11th Ave SE
Interactive Performance Tour
 
Sun, Jan 15, 7:00 pm (sold out)
Cookbook Company Cooks
722 - 11th Ave SW
A Beginning, Middle and an End:  Dinner with Laurie Anderson
Tues, Jan 17, 7:30 pm
Glenbow Museum
130 - 9th Ave SE
In Conversation with Laurie Anderson
Wed, Jan 18 - Mon, Apr 9
Glenbow Museum
130 - 9th Ave SE
The Gray Rabbit (video installation)
---