The 12th annual Funnyfest Talent Search is this Saturday night at Libertine Public House (223 8th Ave SW). It will feature a number of amateur standup comedians and a pro headliner. In addition to the number of funny folks calling Calgary their home, did you know that there are 5 hilarious celebrities that have roots in Calgary?
Five Famous Funny Folks From YYC:
Paul Gross – You might know Gross for his 2008 World War 1 epic Passchendaele, but for fans of mid-to-late 90's police comedies, you'll know this Gemini Award winner for his role as the polite yet effective Mountie on the mean streets of Chicago in TV's Due South. His credits also include writing, directing and starring in the curling-comedy Men With Brooms, and starring in the western-comedy Gunless. (photo credit)
Cory Monteith – Better known as Finn Hudson, from Fox's smash hit Glee, Monteith was born in Calgary before moving to Victoria when he was young. Now he is one of the stars of the catchy, funny, and somewhat dark musical comedy sensation. While he may have been cast in Glee for his singing & acting over his comedic timing, he does play a very amusing dumb-jock stereotype. (photo credit)
Tommy Chong – Born in Edmonton, but growing up, and dropping out of high school in Calgary, Chong is one half of the infamous stoner comedy duo Cheech and Chong. With over two-dozen films, and comedy albums under his belt, this Calgarian knows his funny. While his partner Cheech Marin took more serious roles after the 1980s laid the hippie era to rest, Chong stayed true to his comedy roots as Leo from the hit series That 70's Show. (photo credit)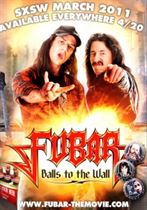 Terry & Deaner (aka David Lawrence and Paul Spence) – These creators and stars of the hit indie comedy FUBAR are Calgarians who developed their unique brand of comedy at Inglewood's Loose Moose Theatre. FUBAR is a Canadian mockumentary set in and around Calgary that follows the trials and tribulations of two "headbangers".  Made on a shoestring budget and debuting at the Sundance Film Festival, FUBAR and it's sequel are comedies that hit really close to home. (photo credit)
If you've been inspired by all this comedic knowledge, then please leave a comment. We are giving away free tickets to the March 24th event to those that comment, tweet and like us on Facebook, so stop by and let us know you want some tickets. Again, the show is at 8 PM at the Libertine Public House (223 8th Ave SW) and you must be 18 years of age or older to attend.
Related Posts
---