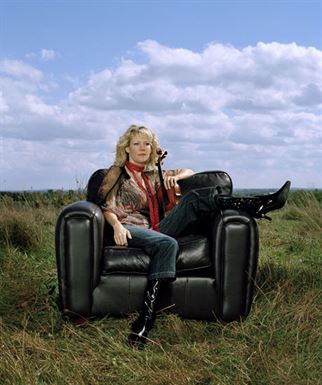 When Cape Breton fiddling sensation Natalie MacMaster brings her jigging and reeling virtuosity to the Jack Singer Concert Hall on Wednesday, March 7, she will be bringing along an impressive heritage of musical talent in her DNA.  The niece of renowned fiddler Buddy MacMaster, wife of fellow musician Donnell Leahy (of Leahy Family fame), cousin of flamboyant talent Ashley MacIsaac, and distant cousin of former White Stripe and all-round music god Jack White, Natalie MacMaster can't help but bring the music.  She was born to it.
But while it's all fine and well that Ms MacMaster comes from a talented bloodline, she carries an impressive dossier even without the benefit of influential family.  If you want to impress your date while sipping your pre-concert cocktail at the Jack Singer on Wednesday, try casually dropping a few of these Natalie MacMaster fun facts:
- Not only is she a member of the Order of Canada (2006), she will be awarded the Queen's Diamond Jubilee medal later this year.
- The MacMaster family fireplace mantle must be getting a bit crowded with all that hardware.  She holds a Juno award (for best instrumental), ten East Coast Music Awards, and eight Canadian Country Music Awards.
- She is a good student, evidently.  She holds an honourary doctorate from St. Thomas University, honourary degrees from Trent University and Niagara University, and an Arts and Letters Award from the Canadian Association of New York.
- She's published a coffee table book, co-authoring a picturesque 161-page tome, Natalie MacMaster's Cape Breton Aire.
- She is a mother of four.  A drop-dead gorgeous mother of four.
Armed with this clutch of Natalie MacMaster factoids, you are sure to earn the admiration of your fellow concert-goers, perhaps even a free drink or two.
Natalie MacMaster
Jack Singer Concert Hall
Wednesday, March 7, 2022
doors 6pm, show 7pm
tickets $35-$55 at Epcor Centre box office
---