If you're pressed for time but still looking to add some art and culture to your busy life there are a number of options in Calgary.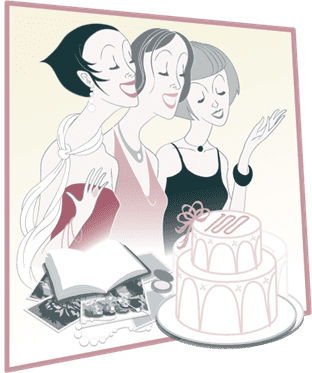 Last week I had the opportunity to take a mid-day break and head over to the Lunchbox Theatre at the base of the Calgary Tower for a one-act play, which is something that I've done a several times in the last year.  Their performances are generally comedies or musicals and their latest play, Fascinating Ladies, is a bit of both. 
It is the story of three cousins planning their grandmother's surprise 100th birthday celebration, and as they sort through her boxes of old things looking for props for the party they learn new details about her life and discover some big surprises.
The cousins, Patty (Katherine Fadum), Francine (Esther Purves-Smith) and Louise (Elizabeth Stepkowski Tarhan) take a journey through song of a life well lived. Traveling through several fabulous well-known musical numbers.
Playwright Catherine O'Brien speaks on weaving the songs into Fascinating Ladies
Big band era classics and war-time hits, like 'In the Mood', and 'Boogie-Woogie Bugle Boy' were injected with beautiful vocal harmonies and accompanied with piano from Musical Director, Joe Slabe. Other familiar tunes like 'Keep on the Sunny Side' were led by Purves-Smith on her ukulele.
Fascinating Ladies, brought back some fond memories of my own grandma, who passed away in 2010 at 92 years old.  She was always singing and would often bust out her concertina or hop on the piano, so this play had me thinking a lot about what the soundtrack of her life might be.
I'll admit that I teared up a few times during the show, but for the most part I was just ready to sing along - and I noticed a number of audience members, many of whom likely grew up in this time, doing just that.  If my Grandma Elsie had been there with me, she no doubt would have broken in to song, as I can recall her doing when we saw Oklahoma together years ago.  A moment that will forever be remembered as both hilarious and horrifying to my 15 year old self.
It was a great way to take a much needed break and focus my thoughts on something other than work for an hour. Almost a week after the play, I still have the catchy "Let Yourself Go" (a classic tune by Irving Berlin that was featured in the film Follow The Fleet starring Fred Astaire and Ginger Rogers) running through my head.
For only $20 for an adult or $17 for seniors and students, you can catch a short play, and either bring your own lunch to munch on during the performance or you can pre-order a bagged lunch from the box office for only $10, which is prepared by the World Delicatessen. Options include a Club Wrap, Vegetarian Sub, Ham and Cheese or Tuna Salad sandwich, plus a drink, fresh fruit, and a small desert.
**Note that plays start at 12:10pm and sometimes run a touch longer than 5o minutes, so plan accordingly.
Lunchbox Schedule:
Fascinating Ladies - March 5-24
The Whimsy State or the Principality of Outer Baldonia - April 2-21
Dad's Piano - April 30-May 19
Emerging Director Presentation - May 30-June 2
Suncor Energy Stage One Festival - June 4-23
---