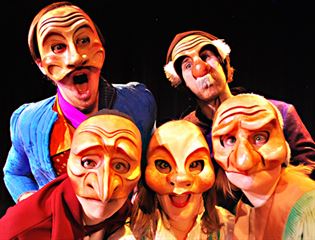 Misunderstandings abound in Beyond the Brink Production's adaptation of Carlo Coldoni's The Servant of Two Masters as a simpleton's empty stomach results in almost tragic circumstances for all involved.

Of course, this production being inspired by Commedia dell'Arte (an Italian form of theatre characterized by masked stereotypical or stock characters and defined by comedic improvisation), tragedy typically isn't an option.
The Servant of Two Masters is a cautionary tale on how a web of deceit can quickly spiral out of control as lies upon lies have to be spun to support previous lies, and the more people that are involved, the more convoluted that web can get.
The play opens with the introduction of Beatrice, a woman who has traveled to Venice assuming the identity of her late brother Federigo Rasponi in order to find his killer, who just happens to be her lover Florindo.  Florindo killed her brother Federigo in a duel when her brother forbade her to marry him.  Beatrice hopes to collect the dowry money from Pantalone, the father of Clarice (who is actually betrothed to her brother Federigo), so that she and Florindo can escape together and live happily ever after.  However, thinking that Beatrice's brother Federigo was dead, Clarice has instead fallen in love with another man, Silvio, and the two have become engaged.  When Beatrice shows up masquerading as her brother Federigo, suffice to say, hijinks ensue.
Right away, it's easy to see how tangled up the web of deceit is, but it is manageable.  It isn't until the introduction of Truffaldino, the central character in this play, that things start to truly spiral out of control.  Always complaining of an empty stomach, all Truffaldino wishes to do is satiate his hunger with something to eat.  Thinking that his master is still alive (who, incidentally, is Beatrice's brother Federigo, whose identity is now assumed by his sister Beatrice), Truffaldino accompanies "him" to Venice on "his" trip and is incredulous when he hears from Pantalone of his master's apparent demise.  As he hungrily waits on his master who has gone off on an errand, an opportunity arises to serve another master (incidentally, Florindo) that greatly increases his chances of him getting a second meal, and it is here where we start to see things unravel as Truffaldino must work hard to keep up appearances to ensure that neither master learns of the other.  As he works harder and harder to cover his tracks, the lies pile up higher and higher eventually encompassing and affecting all the characters in the play as the consequences of said lies ripple ever outwards.
Traditional Commedia dell'arte is 100% improvised without a script, and Venetian playwright Carlo Coldoni made his mark on the genre by scripting the stories while still incorporating traditional Commedia stock characters.
Director Mike Griffin's adaptation of Coldoni's work preserves the essentials of Commedia while managing to make the genre accessible to new audiences.  The cast executes his vision with melodramatic flair, with grandiose gestures and over-the-top delivery of lines that, when put all together, result in an energetic performance that is a pleasure to watch.
With the exception of Catherine Vielguth who plays the character of Pantalone, all of the cast of The Servant of Two Masters play multiple roles, one with a mask and one without.
As Pantalone, Catherine Vielguth uses her mask to portray herself as Clarice's father, an old, rich man concerned about money, but also about his daughter's well being.
Kyall Rakoz plays both lovestruck Silvio and the indecisive Truffaldino with aplomb, rising to the physical demands of both roles by jumping, diving and combat rolling across the stage.
Cari Russell's performance of Beatrice and Smeraldina (Pantalone's feisty servant) is nuanced and heartfelt as she (as Beatrice) searches for news of her lover Florindo upon learning that he too is in Venice searching for her.  Russell positively dazzles when she reveals her true identity as Beatrice to all involved, and further manages to distinguish her performances beyond a simple disguise when she is pretending to be her brother Federigo and portraying herself as Beatrice.
Angela Valiant's performance of Clarice is the epitome of a lovestruck lover, complete with charming (yet sappy) declarations of love and devotion along with the bouts of melodramatic melancholy that usually accompany such feelings during the bad times.  Her performance of Brighella is no nonsense as Brighella acts as the main force in the story trying to keep everything in order and everyone from committing actions as a result of all the lies that they may regret later.
Finally, Kelsey Flower's portrayal of both Florindo and Dr. Lombardi is the proverbial icing on the cake as Flower tackles both roles with simple macho flair and style.  In my viewing of the production, Flower always got a pop from the audience whenever he appeared on stage.
While Commedia is generally meant to be light-hearted, it is to the credit of Director Griffin and the spectacular performance of the cast that, just for a moment, the audience could truly believe that everything could possibly fall apart in the worst way.  I can honestly say that I haven't laughed as hard or as loud in a long time since I've seen this play, and I would highly recommend it to anyone who loves a good over-the-top production.
Beyond the Brink Production's adaptation of The Servant of Two Masters runs at the EPCORE CENTRE's Motel until Saturday, March 17 with daily shows at 8 p.m. and a 2 p.m. matinee on Saturday.  The show runs for 90 minutes with no intermission, and tickets are available (cash only) at the door and can be reserved by calling 403.461.1995.  For more details, check out beyondthebrink.ca.
---