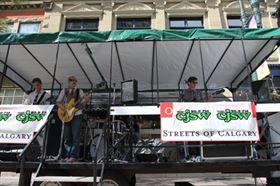 As a born-and-raised Calgarian myself, when it comes to the Stampede, believe me, I've heard it all.
On Friday, I came to the realization that I haven't seen it all. And what I did see, I liked.
New for this year and taking place in the late afternoon and evening at Olympic Plaza and on Stephen Avenue Walk, New West Fest was a celebration of Western culture and heritage, but what was neat about it was that it wasn't just looking at the traditional image of the West that one associates with Stampede time. It was a celebration of Western culture in Calgary throughout time, from the Wild West to now and all points in between, looking at our heritage and where we've come from, where we are now, and where we have yet to go.
Presented by Calgary Arts Development, CJSW 90.9FM, the Calgary Exhibition and Stampede, the Calgary Downtown Association, and The City of Calgary, it was a collaborative effort that tried to bring together many of the different parts that makes Calgary a vibrant place when it comes to culture in general and celebrate them.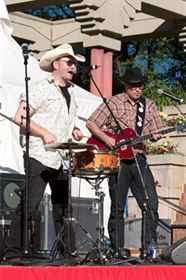 There was live music at both Olympic Plaza and on the West Stage at 1st Street SW and Stephen Avenue with acts such as Jay Crocker, Seven Story Redhead, The Smokin' 45s, Lorrie Matheson, and NQ Arbuckle with Carolyn Mark performing, and CJSW DJs spin danced jams from Stephen Avenue for most of the evening.
The highlight of the night for me was PechaKucha Night at Olympic Plaza. For those who are unaware, PechaKucha Night events consist of around a dozen presentations with each presenter having 20 slides and 20 seconds to talk about them.
It was the first PechaKucha-type event I have ever attended, and the range of presentations at New West Fest was what impressed me the most. The theme for this year was "The West" and how people interpreted that theme and presented them was as diverse as the background of the various speakers.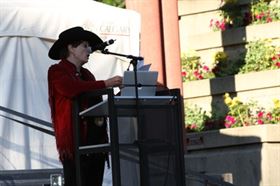 Yes, Tracey Read, Centennial Manager from the Calgary Stampede, gave a presentation on the Stampede story, telling the audience how the Greatest Outdoor Show on Earth came to be and where it's heading as it celebrates it's centennial in 2012, but others gave their unique views on the West as well.
Naturalist and author Ben Gadd talked about the Rocky Mountains from a geological perspective, Travis and Rachel Gert talked about a road trip that they went on and what it meant to be truly "rich," and David Down, Senior Architect/Urban Designer with The City of Calgary talked about Calgary, where it needs to go as a city and what we need to do as citizens to help this city reach its potential.
Many questions were raised, some answers were given, and calls to action were made.
The presentations were inspiring and eye-opening, and it made me proud to have been born and raised in this city. It was definitely refreshing to see something different during Stampede week that still celebrated Western heritage at a time of year when Olympic Plaza traditionally has never had anything going on past 1 p.m.
Organizers said they would look at this year's efforts and evaluate, but I hope that New West Fest makes a return next year. It was a fresh and different take on celebrating and promoting Western heritage and values, but equally relevant.
Photo Credit: Reginald Tiangha
Related Posts