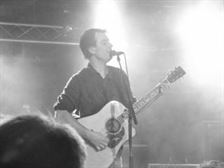 Expect a powerful dose of opinion when Matthew Good takes to the stage at Jack Singer on November 10 and 11. That's because the Vancouver rocker has never been shy about calling things as he sees them.
Sure, he's confrontational, but he's got the brains to back that righteous indignation and the sardonic humour to make those rants a lot of fun.  While it would be a stretch to say that people attend Matthew Good shows just to hear him sound off, some of his biggest fans will confess that Good's political diatribes rank among the evening's highlights.
But he's definitely not all talk.
With a dozen albums to his name and two decades of touring under his belt, Matthew Good knows how to rock a room. Having transitioned from rock frontman to acoustic solo performer and back again, the multiple Juno Award winner continues to push musical boundaries.  From the driving alt-rock of earlier albums like Beautiful Midnight, through the experimental Avalanche and the darkly introspective Hospital Music, and finally to the current Lights of Endangered Species, Good's music remains highly relevant.
You can still get balcony seats for either the Thursday or Friday show. And if you've ever parked your bum in one of those plush seats, you know that no matter where you sit at the Jack Singer Concert Hall the acoustics are outstanding.  You'll get lost in every note and catch every well placed zinger.
Matthew Good with guests
Thursday November 10 &  Friday November 11
Doors: 7:00PM — Show: 8:00PM
Jack Singer Concert Hall
tickets: online or 403.294.9494
Photo credit - Jennifer Conklin.
---