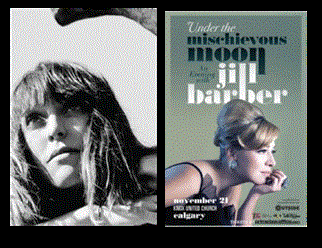 You may need to know someone who knows someone if you wait too long to get your tickets to see Feist on Monday, November 21 at the Jack Singer Concert Hall.  Because those hot items are disappearing faster than maple syrup at a Stampede breakfast. The former Calgarian, one-time Broken Social Scenester, will be playing to a packed house as she makes a one-night pit stop in her old stomping grounds.  One night hardly seems long enough to catch up with old pals, but when you are a world renowned songbird there's only time for a few hours of sweet soulful song before it's time to fly the nest again.
Lucky for you, if you are not already clutching a Feist ticket, downtown Calgary has no shortage of fabulous Canadian chanteuses performing that evening.   Just a quick stroll past the twinkle lights of Stephen Avenue and up a few blocks, Knox United Church opens its heavy wooden doors for an evening of music with Jill Barber.
The former folkie turned jazz glamour girl has been expressing her Ella and projecting her Piaf on an extensive cross-country tour.   Knox United Church, long a staple of cool indie venues, is the perfect place in which to swoon in the lushness of Barber's signature contralto.  The Jack Singer may have plush seats and a well-stocked bar, but Knox United boasts near perfect acoustics  and heavenly architecture.
And if you are able to get tickets to both shows?  You are going to have to dust off that Clonomatic 6000, and crank it up to 11, because both shows start at 8:00 PM.  Wear sneakers.
Monday, November 21 - doors 7:00, show 8:00 PM
Jack Singer Concert Hall, 205 - 8th Ave SE
tickets at Epcor Centre
Monday, November 21 - show 8:00 PM, all ages
Knox United Church, 506 - 4th St SW
tickets at Prime Box Office
Related Posts
---