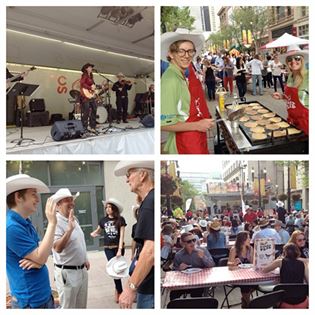 Note: this post is about 2013's First Flip, click here for the 2015 First Flip Pancake Breakfast on July, 2nd
Downtown Calgary is fully reopened after June's flooding and this year's First Flip pancake breakfast shows us that Calgary back and ready to party! We had a great time, ate our body weight in pancakes and now are falling in to a food coma. Be sure to come downtown for the Stampede parade on Friday, June 5th and stick around after for a concert in Olympic Plaza (how many parades have you been to that have an afterparty?).
Anyway, we had a real kicker and here are some highlights from all the fun for folks who couldn't sneak out of work.


---