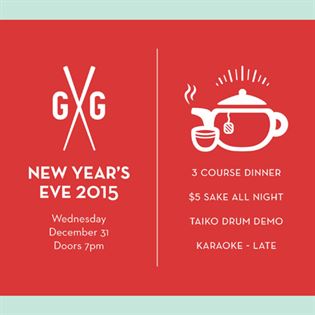 New Year's Eve is right around the corner, and if you don't have any plans you'll want to check out GORO + GUN's New Year's Eve dinner party.
Featuring a 3 course dinner, sake specials, karaoke and a taiko drum demonstration, this event promises to be a unique and entertaining way to ring in the new year!
For those of you who don't follow Calgary's culinary scene as closely as we do, GORO + GUN is a new Japanese restaurant in Scotia Centre. Occupying what used to be the lower level of WEST, Goro and Gun brings a fusion of authentic and re-imagined Japanese food and presents it in a comfortable yet trendy space.
Tickets are just $60 each, and they are moving fast! Buy them here. The contest to win a pair of tickets is now over. Thank you to all who entered, if you won you will be contacted shortly.
-
GORO + GUN New Year's Eve Sake Party
Wednesday, December 31st @ 7pm
Tickets: https://bigtickets.ca/index.php?event_id=669
Website: http://goroandgun.ca
---