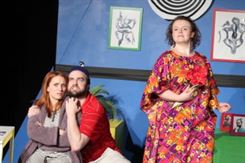 Theatre of the absurd or outrageous comedy, is what Christopher Durang creates plays about. He creates juxtapositions and often features scenarios that are completely bizarre. Theatre BSMT has created an evening featuring two plays by Christopher Durang: 'dentity Crisis and Wanda's Visit.
Theatre BSMT doesn't have an intermission between the plays. They rearrange the set and move into the next play. It works in the small space at Motel and the transition is made smooth by playing interlude music. 'denty Crisis tells of Jane (Elisa Benzer) who has attempted suicide by cutting and her mother Edith Fromage (Hayley Feigs) thinks she has invented cheese and banana bread. She also refuses to believe that Jane tried to commit suicide.
At first you think that maybe, 'dentity Crisis is just a little off its rocker in terms of a play and will rely on perpetuating that Jane is crazy. In walks Robert (Alan Johnson) who is Jane's brother and father and grandfather. All at once, without any kind of distinguishing one from the other.
In walks in Jane's psychologist Mr. Summers (DJ Gellatly) who gives Jane a session in her own home because she recently tried to commit suicide. He leaves and comes back as a woman (Tara Marlena Laberge), and this foolishness continues. This play is tedious and irritating instead of what it aims to be: funny and absurd. Feigs throws herself into the role of Fromage, completely over the top and insufferable. Gellatly seems to be delivering his lines as if he's talking to a camera as Mr Summers, but makes the transformation as Mr Summers' wife. 'dentity Crisis in the end is just too much to be effective.
The second play of the evening, Wanda's visit is a bit more tolerable by comparison. The play tells of an unhappy married couple Jim (Gellatly) and Marsha (Laberge). Jim has recently got in contact with an old girlfriend from high school Wanda (Feigs) who decides to come over for dinner. To say that Wanda is a hot mess wouldn't even cover it.
Wanda throws herself at Jim, she's had plastic surgery, she laments the fact that she never married Jim. She's crazy, and to have the play continue along it's narrative, Marsha and Jim go along with it the whole time, even though Wanda never makes her way to the guest room and winds up sleeping in their bed.
To Feigs credit, she effectively is insufferable and intolerable but not funny. Which should be the whole point. Why would an audience want to spend any amount of time watching Wanda force herself into one situation to another, unless that awkward kind of funny was at play. Maybe it's what Durang was aiming for in penning these plays and maybe you just have to love absurd comedy, but both plays just didn't pull through.
If you're into absurd comedy than Duranged! an evening of plays by Christopher Durang is for you.
Theatre BSMT's Duranged! runs until December 20th. More information is available online.
Photo: (From left to right) Elisa Benzer, Alan Johnson and Hayley Feigs
Credit: Mya Swedburg
---