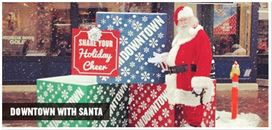 ***Weather Permitting***

Saturday, Dec. 20th - From 11am to 3pm come down to Olympic Plaza between 11 am and 3 pm for an event that won't soon be forgotten. Skate with Santa on the ice at Olympic Plaza, courtesy of Downtown Calgary. Skates and helmets will be available to borrow (in limited quantities).

Note: in last week's newsletter we mentioned Santa would be at Hudson's Bay on Dec. 18th. This was in error, and we apologize for the inconvenience.

Thurs. Dec 18th 2014 - The Huron Carole - A Musical is just that - an enchanting musical re-enactment of the very first Huron Carole concert that took place in 1987. Alongside concert series founder Tom Jackson, guest artists in both the musical (Act 1) and special concert (Act 2) include Don Amero, Shannon Gaye, Beverley Mahood and One More Girl.

Until Dec 24th, 2014 - Get your Christmas gifts wrapped by a volunteer at Banker's Hall (2nd floor next to Pink Pearl restaurant) and support a good cause. Mall hours every day leading up to Christmas eve (Dec 24th).

Until Feb 7th, 2015 - The Tiny Gallery project builds small, enclosed plinths, and places them on pedestrian-friendly Calgary streets. The project aims to bridge the gaps between street art, gallery art, and public art, simultaneously helping local artists reach a larger audience and making art more accessible to the general public. Tiny Gallery also encourages pedestrian exploration of Calgary communities and promotes locally-owned businesses. The Performing Arts Show Space was launched in September 2014 and consists of three indoor plinths located on the upper (Plus 15) level of the Epcor Centre for the Performing Arts.

The artist for this show is Melanie Long.

Sunday, Dec 21, 2021 - VoiceScapes, Calgary's professional vocal ensemble, is delighted to present their 13th annual "Sing Along Messiah" concert at the beautiful Knox United Church in downtown Calgary.

"Sing Along Messiah" is a performance where the audience is invited to sing along in the choruses while talented young singers do the solos.
-
Would you like to be the first to know about great Downtown Calgary events? Sign up for our newsletter.
---