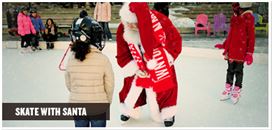 Skate with Santa - December 19th
Come down to Olympic Plaza between 11am and 3pm for an event that won't soon be forgotten. Skate with Santa on the ice at Olympic Plaza, courtesy of Downtown Calgary. Bring your own equipment or you can borrow skates and helmets (in limited quantities) from the Kidsport Skate Shack. We've also partnered with Wild Rose Skating Club to give skating tips and a few skating performances. This event is free and open to children and families of all ages.
Weather dependent, please check back for further details.
Hudson's Bay Shopping event - December 16th
You are cordially invited to Hudson's Bay Calgary Downtown for their exclusive "Last Minute Holiday Shopping Event". Be sure to grab your special shopping discount card while experiencing chocolate tasting from Bernard Calebaut!
More shopping fun including an "Ugly Sweater" holiday photo booth courtesy of Standard Speakeasy and Social Club.

Downtown Caroling - Dec 14, 15, 16, 17
Want to add some Christmas cheer to your downtown experience? We're featuring carolers on Stephen Avenue on Tuesday, December 15th and Thursday, December 17th. Keep an ear out for the Rock N' Roll carolers as they bring a unique twist to your favourite holiday songs.
You can find more caroling courtesy of the WH Cushing Workplace School on December 14th, 16th and 17th this week. WH Cushing is downtown Calgary's only school and these carolers bring some youthful energy to Downtown Calgary.
In response to the recent layoffs in the Calgary community, an employment event called Hire10 will be held at the Metropolitan Centre from 10am - 3pm on December 17, 2015. There is no cost to attend as an employee or employer. Hire10 does ask attendees to preregister at http://hire10.ca in advance of the event.
Join Cantaré Children's Choir for their most cherished concert of the year.
Frost and Fire presents a concert of seasonal music including much-loved traditional carols and new favourites including "Song of the Angels" by Canadian composer Mark Sirett and "Angels are Everywhere" by Daniel Pinkham. The audience is also invited to sing along in popular Christmas carols.
-
Want more Downtown Calgary events delivered to your inbox each week? Sign up for the Downtown Calgary Events Newsletter.
---