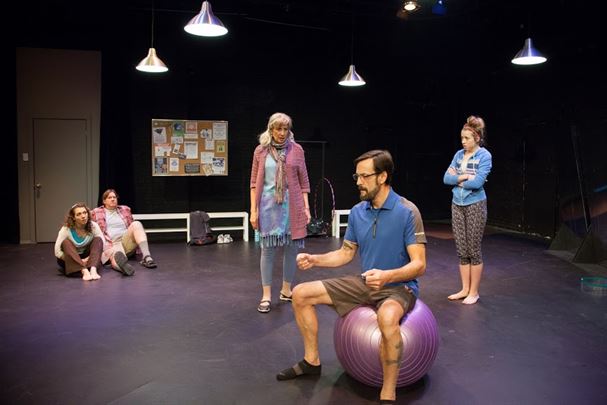 What happens when you get four strangers in a six-week-long community centre drama class? A lot. Relationships form and are dissolved, and tiny wars are waged. It's the narrative behind Sage Theatre's Circle Mirror Transformations. Four people enroll in Marty's (Coralie Cairns) class including her husband James (Dave Brindle). There is 16 year old Lauren (Mikaela Cochrane) who is wondering when they will do some real acting, the incredibly awkward Shultz (Declan O'Reilly) and the attractive but damaged Theresa (Lora Brovold).
The group takes part in various exercises that seem to grow more and more intimate as they go along. They reveal more and more about the personal lives of the participants. But the secrets and transformations aren't really things that the audience couldn't see coming. Director John Hudson has each scene open and close with a black out and transition music. It makes the narrative choppy and slow. Annie Baker's script has everyone take a long time to interact with each other which creates ages of silence in the play and just when you think the storyline might build some tension, it gets killed by a character interrupting the drama. When conflict actually does present itself, the audience doesn't actually really care about the characters. This play has no concept of 'rising action.' It drags the story and with a run time of 120 minutes with no intermission, Circle Mirror Transformations just takes way too long to get to the seeds of the conflict.
Some of the exercises that the characters take part of are intriguing, but it doesn't make up for how slow the play is. Cindi Zuby's set design is a little simple with mirror like structures on one side and a poster board next to a door along the other side.
Sage Theatre's Circle Mirror Transformations has a good idea at its heart, but it's production is too slow and simple to be compelling.
Sage Theatre's Circle Mirror Transformations runs until February 14th at Vertigo Studio Theatre. More information is available online.
Photo Credit: Mat Busby
---