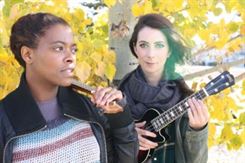 Sage Theatre's production of Daniel McIver's A Beautiful View is an intimate look at a relationship between two women, as it shifts and changes over time, as it gets closer and grows apart. But apart from that, the production looks at the bigger questions, the questions of god and what happens after death. It's a solid, quiet production that plays within the intricacies of a relationship.
The play tells the story of L (Monice Peter) and M (Stacie Harrison) who meet at a camping store by chance. Their relationship starts off with white lies, the kind of lies you tell when you don't know what to say. Their relationship begins to develop and has its ups and downs.
A Beautiful View starts at the end, telling the story backwards. We meet M and L when they've been through the ebb and flow of their relationship and they tell the audience their story from the beginning, highlighting different aspects of it. It's an interesting technique of storytelling, where the viewer is always wondering where it leads, where the characters are now.
Both Peter and Harrison are strong on stage, not overplaying their roles or making the production seem forced at any point in time. Peter in particular makes the musical portions stronger. The costume, lighting and set design are all understated to have the focus be on the two characters on stage and the quiet that is a element throughout the performance. "Silence is there underneath the blah di blah," as L so eloquently puts in towards the beginning of the story.
A Beautiful View is thoughtful, quiet play that looks at a relationship that doesn't really fit within definitions.
Sage Theatre's A Beautiful View runs until November 15th at the Vertigo Studio Theatre. More information is available online.
---