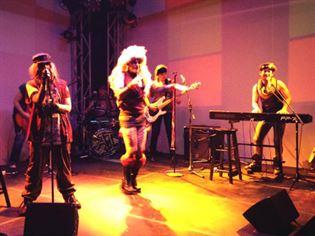 Hedwig & The Angry Inch is the new play put on by Sage Theatre and is currently running at the Studio at Vertigo Theatre. It was my first experience with the space, and I was really impressed. The show is a fast paced musical with enough songs, jokes and innuendo to keep you warm through the long, cold Eastern German winter.
For me, Hedwig & The Angry Inch was a cult movie that some of my art school friends passed around on VHS and then DVD. We were all either drama students, musicians or artists, so it made sense that so many of us were obsessed with the trans-gendered would-be rock star and her inspiring story of escaping communist East Germany.
OK, so maybe my misfit friends and I were more excited about finding what we considered to be our generation's 'Rocky Horror Picture Show' than the flight from an oppressive communist regime. Regardless, I was excited to finally see the play that inspired the film and Sage Theatre didn't disappoint.
The show focuses on Hedwig, the aforementioned trans-gendered rock star and her band 'The Angry Inch'. With a slight German accent, Hedwig tells the story of her life and how she ended up performing in a small underground theatre in Calgary, Alberta.
Hedwig is played by Geoffrey Ewert, who effortlessly breaks the fourth wall, jumping in to the audience occasionally. The performance makes you forget that you're seeing a rehearsed play, with Heineken bottles strewn about the stage you might think you're actually seeing the emotional breakdown of a failed rock star on the stage of a local dive bar.
The show is raucous and fun, with the energy of a live rock show that you might experience at the Palomino. 'The Angry Inch' rocks out with real instruments, and Ewert and his 'Husband' Yitzhak (played by Carly McKee) really belt out in song.
Other features of note are the show's projections. An animated backdrop for the band was both visually pleasing and helpful for following along with the lyrics of the songs. T. Erin Gruber did an amazing job making Hedwig in to an experience not often seen in black box theatre settings.
Hedwig & The Angry Inch runs nightly at 8pm with Saturday & Sunday 2:30pm matinees until Sunday, November 17th.
---