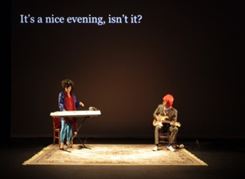 Kate Bush and David Bowie rented a mansion in England in 1981 and wrote music together. They both never spoke publicly about this and no music was released from their time together. Theatre Replacement's Kate Bowie is a play of a Canadian couple who are massive fans of Bush and Bowie and try and recreate this scenario to salvage their relationship. But you wouldn't know that from actually seeing the play.
Kate Bowie opens to Maiko Yamamoto as Kate and James Long as Bowie, talking at each other.  The play focuses on the interaction between Kate and David and these sequences are interrupted by black outs with projections on the back wall, depicting what Bush and Bowie were doing at the the time. It's a play within a play, with characters playing Kate and David and actually trying to salvage their own relationship.
The problem with the entire narrative is that playwright Greg MacArthur doesn't go deeply into either story. The story about Bush and Bowie, or the story of the couple trying to save their relationship. Running at 65 minutes, Kate Bowie never really has anything much to say. Whether its telling the story of the two famous musicians who never actually interact with each other, or about a couple that the audience desperately wants to hear more about but then the stage blacks out and we never feel connected to what's unfolding on stage.
The lighting design by Jonathan Ryder is simple, with blue and pink light on each character occasionally. The set design has a keyboard in the back of the stage with a guitar and a tree in the foreground.
It's easy to see what Kate Bowie is trying to accomplish, but winds up being a long play that's maddening in its inability to tell a story.
Kate Bowie is part of the High Performance Rodeo. More information is available online.
Photo Credit: Tim Matheson
---