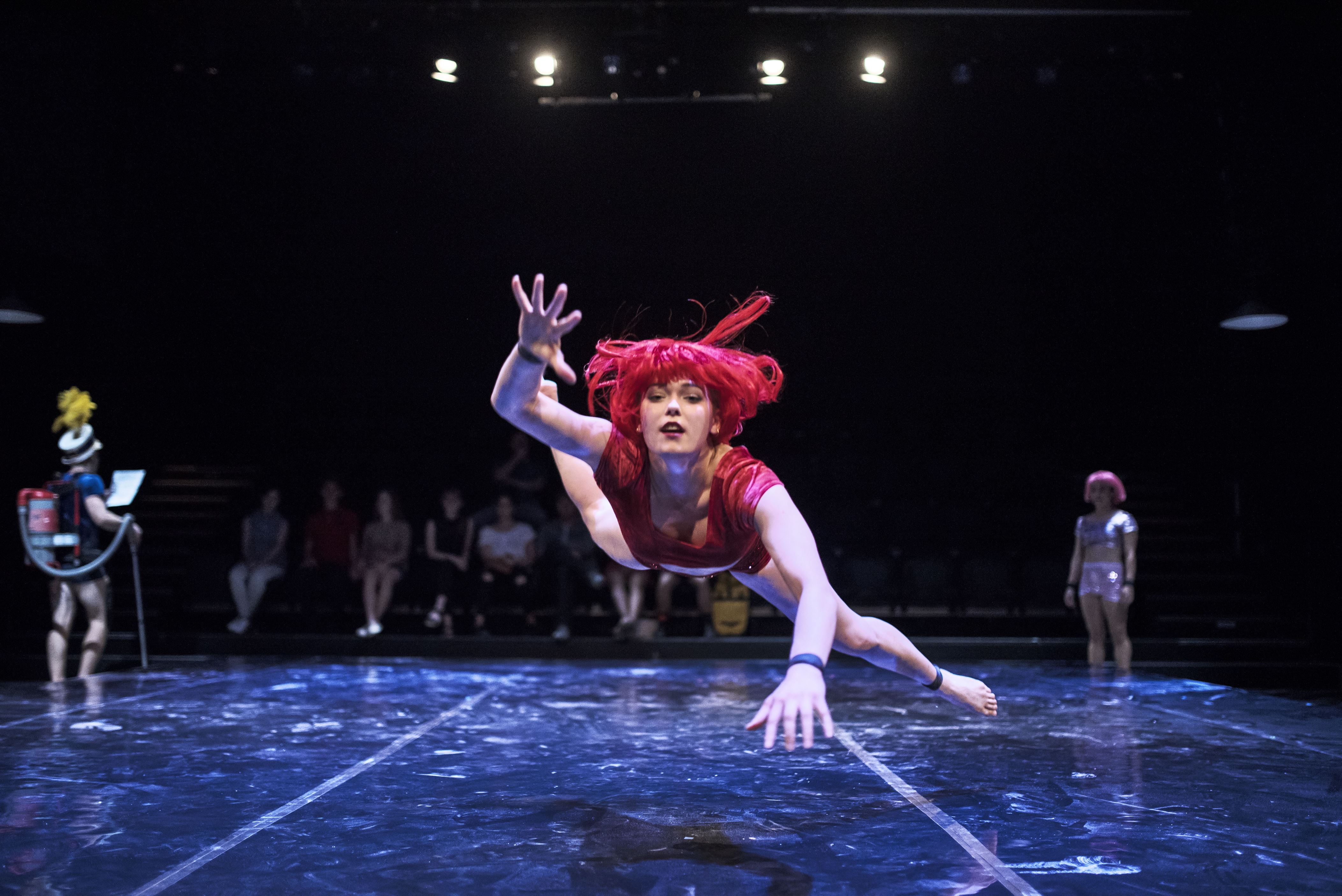 Last night, I had joy of going to the opening night of When One Door Closes at Theatre Junction GRAND. It's a collaboration between directors Yaron Lifschitz and Libby McDonnell,  Circa and La Boîte Theatre Company in Australia.
The basis for the show was three iconic female characters from Ibsen and Strindberg works - Hedda, Nora and Julie - meet at the end of their plays in a parallel world. These women were originally written by men to live within the gender-normative limits of their lives, while trying to escape both their lives and the men within them.
The show started off introducing each of the women, briefly describing their perfection and discipline. They each appear composed in identical black wigs, black clothing with expressionless looks on their faces and are surrounded by, you guessed it, more black!
The darkness continued through to the performance where each of the women are at times being attacked by the four males, resembling domestic violence: Nicole Faubert's Julie tumbles along with her male counterpart mirroring her until she finds her escape; Cecilia Martin's Nora is tossed back and forth between the male players; and Birdie Hooper's Hedda awakes on stage to find herself in a crime scene outline and makes a break for it in only a way a contortionist can.
Only when the backdrop fell and revealed the stage behind, did the women see that they were no longer in the same world and felt empowered to renegotiate their roles in a male-dominated society.
The women's new world appears candy-coloured. They're easily identifiable by colours - red, orange and pink, while the men were in blue and all dressed in similar velvet tops and sequinned bottoms. Their personalities shine through in their own styles of acrobatics, skills and strength and interaction with each other, their male counterparts and the audience. Even though the women still had their challenges, they had experienced (and showed) more love, sex, control and power.
The drama and intensity of the show was broken up with boughts of hilarity and challenged gender norms, such as when Todd Kilby hammed it up in a lip-sync performance with a vacuum or when Kirby spilled a bag of flour over Hooper's head to the tune of  I want candy.
The show, which started as a contemporary dance turned into a cozy circus. The crew of just seven showed an incredible level of intimacy and trust to power through tumbles, lifts, adagio, cloudswing, jumping through hoops (literally!) and much more while still delivering a performance that was entertaining and thought provoking. If you're not familiar with theatre but have an appreciation of contemporary dance and acrobatics or looking for something new to try, this is a great introduction to it. There is only a little bit of dialogue at the beginning (be warned there is a lot of swearing in the first few minutes) followed by nearly 90 minutes of awe-inspiring physical talent.
When One Door Closes runs now through May 13, 2022.
Tickets are $20 for students and $45 for adults and available online for purchase at theatrejunction.com.
---
Editor's note: This post was written by Nicole MacDougall to promote Circa: When One Door Closes at Theatre Junction GRAND. If you would like to promote your Downtown business or event, please email [email protected]
---