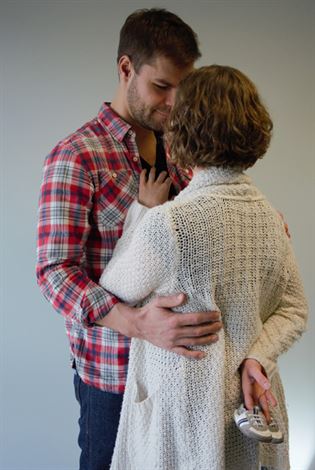 The young couple in Duncan MacMillan's Lungs are having a conversation about having a baby. It starts in IKEA and brings on an anxiety attack for the woman (played by Anna Cummer) leaving the man (played by Kyle Jespersen) to try and deal with the complete meltdown that follows. Because once you open the box about starting a family, you can't put it back. There is the planet to think about, the carbon footprint created by having a baby. The problem of overpopulation and diapers filling the landfill - they want to have a baby for the right reasons.
And the anxiety coming from the woman is enough to make your head spin. And it bleeds in to everything, their sex life, their relationship with their families, how they feel about bringing another human being into the world. Most people don't give that much thought to the prospect of having kids. And there are a lot of things to think about that the play delves into, hard and fast. At some point the woman asks "am I being crazy here?" and he responds with "you're somewhere on the spectrum." Lungs is a story of a couple of people who feel very deeply and don't actually take a moment to breathe. When you live in your head too much, then the world can start to unravel.
The story is told on a raised stage, with no sound design, lighting design (except for the end) or props. Each scene bleeds into the other at a speed that doesn't feel rushed but doesn't pause either. It tells of a very honest, lovely story of two people who just want to do the right thing.
Cummer and Jespersen are a good pair who embody their characters and bring the play to life. With no other elements to lean on, they have only each other to move the play along and they don't falter. It wouldn't be the right decision to miss Verb Theatre's Lungs.
Verb Theatre's Lungs runs at Motel in Arts Commons until Valentine's Day. More information is available online.
---