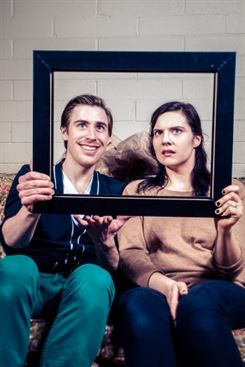 Late, A Cowboy Song tells of a couple, Mary (Carly McKee) and Crick (Kyle Rakoz) who have been together since the second grade. They don't know anything else, other than each other. Mary is also friends with Red (Genevieve Pare) who is a cowboy and enjoys riding horses as they are nice and intelligent, unlike humans.
The narrative explores the dysfunctional romantic relationship between Mary and Crick and contrasts that with the easiness of the friendship between Mary and Red. Crick is manipulative and controlling, while Mary doesn't know how to react or deal with his behaviour other than giving in to it.
The cast of Late, A Cowboy Song all put in strong performances, though Pare's portrayal of the laid back, easygoing Red shines in this production. Her movements and language embodies the character. Rakoz stretches his character abilities by portraying the controlling Crick, a role unlike his past roles. McKee gives an even performance.
Michael Wanless and Genevive Pare created the musical composition for the play and it adds some good humour to the piece and sometimes settles in an awkward space between drama and humour. Which tend to be the case with the whole play.
The narrative drives towards the thing that is really wrong between Mary and Crick, the audience can feel it bubbling beneath the surface, but the play continues to trot along, never really coming to a breaking point within the conflict. The dialogue features lines like 'we were supposed to ride into the sunset together!' and is peppered with 'honeys' and 'darlings'. It causes the story to feel all over the place.
Late, A Cowboy Song is a play that tries to examine a relationship that isn't quite right and we're not exactly sure why, but it misses the mark in its delivery.
Late, A Cowboy Song is presented by Third Street Theatre and runs until March 22nd at the EPCOR CENTRE'S Motel. Tickets and more information is available online.
Photo: Kyall Rakoz and Carly McKee
Credit: Jason Ho
---