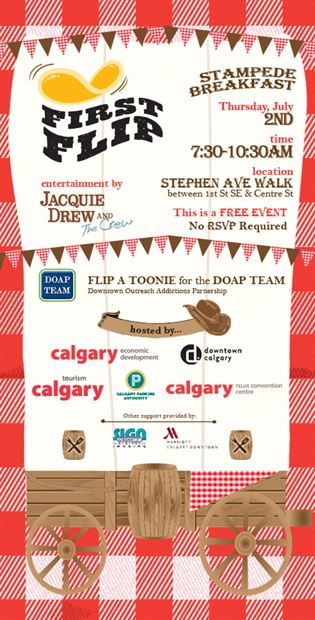 You are cordially invited to the First Flip Stampede Breakfast on Thursday, July 2nd, 2015.
Located on Stephen Avenue just outside the Telus Convention Centre and running 7:30 to 10:30am First Flip is a FREE Stampede breakfast that is open to the public. No RSVP required!
The breakfast features free food and entertainment from local artist Jacquie Drew and the Crew and donations will be collected on site for the DOAP Team. The Downtown Outreach Addiction Partnership or DOAP is an active partnership between Alpha House and CUPS Community Health Clinic. The program has been designed to link Calgary Police Service officers and Emergency Medical Services medics who come into contact with individuals with substance abuse issues in the downtown area with the appropriate social service agency.
Presented in partnership with Calgary Economic Development, Tourism Calgary, Calgary Telus Convention Centre, Calgary Parking Authority and the Calgary Downtown Association.
---