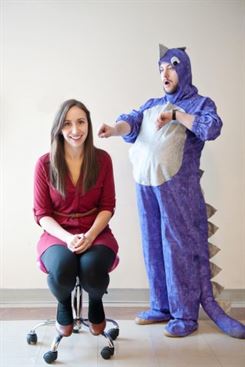 Fire Exit Theatre's Artistic Director Val Lieske heard about Ingrid de Sanctis from a mutual friend and he said that Ingrid was the American version of Lieske. "She used to work in a large church and I work in a church, she has a theatre company and I have a theatre company, she teaches at the University and I teach at a University and she has a play about cancer and I have a play about cancer," Lieske explains. And so Lieske contacted de Sanctis and now Fire Exit Theatre is presenting Sarah and the Dinosaur. 
The play is about Sarah and cancer and how the disease is a dinosaur in the narrative. "In the story, Sarah is an elementary school teacher and she's teaching the kids about all of the amazing dinosaurs, so that when she gets the cancer diagnosis, the cancer manifests for her as a form of a dinosaur. A big goofy guy. He's not a very well liked character, he's not very sympathetic. Her making peace with the dinosaur, this thing that lives inside her, it's beautiful," Lieske says. The play is based on a true story of a friend of de Sanctis, who had cancer at a very young age in her retina and thought it thought it had gone away and it was cured. But it reappeared in her liver and was terminal.
Sarah and the Dinosaur isn't a kid's play, inspite of it's title. "Having traveled this journey before, what the character talks about is so truthful. I think that there are a lot of people who have been touched by [cancer], Lieske says, "I just love the piece, it's such a lovely portrayal, [and] I think it gives people the ability to laugh at this disease.
"If you can't laugh, you'll cry."
Fire Exit Theatre's presentation of Ingrid de Sanctis' Sarah and the Dinosaur opens tonight and runs until Sunday. The playwright will be at the Sunday showing and will be doing a talkback. More information is available online.
Photo Credit: Tara Whittaker
---