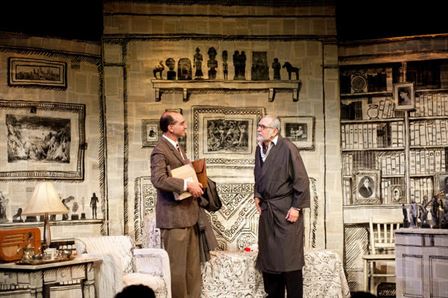 Review written by Jenna Shummoogum, @JennaShummoogum
There is something to be said about having a civil discourse. Something about the ability to have a discussion with someone that you absolutely disagree with in terms of their ideas and beliefs but still see them and honour them as a human being. This idea is at the heart of Fire Exit Theatre's timely production Freud's Last Session, a fictional story written by Mark St. Germain about Dr. Sigmund Freud meeting C.S Lewis. It's a meeting and clashing of ideas, faith and belief.
The play opens to Freud (Dr. Randy Ritz) moving around his study, when he is interrupted by the dog barking, as someone is finally at the door. His expected guest C.S Lewis (Michael Peng) arrives, apologizing for being late, but all the trains are leaving London, not coming into the city. The year is 1939 and Hitler has just invaded Poland, and Freud is on the cusp of death. He has oral cancer and it is inoperable. It is under these conditions that he has invited Lewis over to talk about the existence of God, because Lewis is has converted and Freud is an obstinate atheist.
Their conversation has a certain flow to it as they move from their study of essays and lectures, to the concept of a creator, to how their lives have unfolded for them. They talk about Freud's escape from Austria and his relationship with his daughter. They speak of Lewis' companion and chat about romantic relationships throughout their lives. They speak of their upbringing to see if it has an influence on them as believers or not. The narrative is a battle of intellect and the power of persuasion.
What makes the play engaging is how both Peng and Ritz portray their characters. Peng is British and dignified while also being thoughtful. Ritz depicts a dying man with such force, as the many surgeries to his character's mouth is depicted in the cadence of his speech.
Daniel Vanheyst's set design is innovative with the entirety of Freud's office in illustrations, in black and white. The books and artifacts that decorate the walls are flat illustrations and the couch and chairs are covered in that design. The setting is complete with an old phone and radio on tables in the front of the stage.
At some point, Freud says, ". . . the defence of humour! this is how we forget. The brain cannot hold on to horror." This is the reprieve in the play, when they take a break from the ideas and settle into the tiniest bit of humour. The narrative arch of Freud's Last Session is quite satisfying in how they both try to argue their point, but can't help but see it also from the other's point of view. They see the humanity. It's something we could all stand to do.
Fire Exit Theatre's production of Freud's Last Session runs until October 22nd. More information is available online.
Photo Credit: Tara Whittaker
---