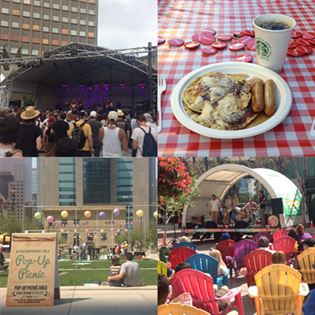 We're excited for another great summer of festivals and events coming to Downtown Calgary! Each year from June to September downtown is a host to a number of events that range from cultural festivals to full blown music extravaganzas. Click on the link to find out more information on each event!
To get events like these sent to you email each week, sign-up for the Downtown Calgary Events Newsletter
Street Piano Series - Ongoing

Join us and some local musicians as we bring live music to the Downtown Calgary Street Pianos for FREE noon hour concerts. Each show will be at one of three pianos, and feature new musicians each week!

Stephen Avenue Walk Stage - Ongoing

Tuesday through Friday (and a few Saturdays) we host live music on the Stephen Avenue Summer Stage. These free noon hour concerts cover almost every genre of music.

Pop Up Picnics - Ongoing

Each Wednesday from June 22nd to August 24th we host our Pop-Up Picnics at various public spaces in Downtown Calgary. We encourage you to bring your lunch and enjoy some free entertainment that includes live music, lawn games and more! The picnic moves each week, so be sure to check the website or social media for locations.

Market on Stephen Avenue - Ongoing

In addition to the normal street vendors on Stephen Avenue there will be a number of vendors on alternating Tuesdays this summer. There will be everything from fresh produce, to popcorn, local meats, baked goods, frozen foods and fashions! Upcoming markets include June 7th, June 21st, July 5th, July 19th, August 9th, August 23, September 6th and September 20th.

Blue on the Avenue - Ongoing

Musician Mike Watson is curating this free live music series on Thursdays from 4 pm to 6 pm on the Stephen Avenue Summer Stage. Concert dates: June 23rd, July 7th, July 21st, August 4th.

Garbage Daze IV - June 3rd to 5th

What started as a DIY punk and hardcore music festival has expanded for it's fourth iteration. Subtitled "The Digital Age" the fest will feature a number of underground local and international acts performing at the Palomino Smokehouse and Social Club, the Royal Canadian Legion Branch #1 and more.

Sled Island - June 22nd to 26th

Spanning many genres and downtown venues, Sled Island is one of Calgary's most diverse music festivals. Shows include big name acts at Olympic Plaza and Flames Central, with smaller shows taking over venues like The Palomino Smokehouse and Social Club, The Royal Canadian Legion Branch #1 and Theatre Junction Grand.

Canada Day - July 1st

Celebrate Canada's 149th birthday downtown! We'll be hosting a full day of Canadian music on the Stephen Avenue Summer Stage, and the City of Calgary will be hosting events at Olympic Plaza and Prince's Island Park. This year fireworks will be fired off of the Centre Street bridge.

First Flip Pancake Breakfast - July 7th

Our unofficial kick-off to the Stampede Breakfast season on Stephen Avenue with a FREE pancake breakfast. Located just outside the Telus Convention Centre we invite everyone down to enjoy a free pancake breakfast, with live music and entertainment.

Calgary Stampede - July 8th to 17th

The Stampede Parade takes over downtown on the morning of July 8th, and it's a great time to check out Stephen Avenue and the rest of Downtown Calgary. While the Stampede grounds are outside the downtown core, there is still a lot of fun to be had! The Calgary Stampede Downtown Attractions Committee hosts square dancing on Stephen Avenue from July 9th to 16th, and will have a bunch of entertainment for the whole family at Olympic Plaza. You can also watch daily parades down 8th avenue, get a tour of downtown on the Old Time Rigs and more.

Folk Fest - July 21st to 24th

Located on the picturesque Prince's Island Park, Folk Fest brings a diverse range of music to Calgary for a weekend full of fun! With an expanded beer garden in store for 2016, this year is poised to be one of the best yet!

Fiestaval - July 22nd to 24th

Celebrating the diverse cultures of Latin America, Fiestaval is a free cultural celebration at Olympic Plaza. Featuring a beer garden authentic food vendors and more!

Turkish Fest - July 29th to 31st

Celebrate and discover Turkish heritage at Eau Claire's Festival Plaza! Featuring music, dancing and food, this free festival gives Calgarians of all backgrounds a chance to enjoy Turkish hospitality.

Rio Olympics - August 5th to 21st

Can't make it to Brazil for the Summer Olympics? We'll have screens on Stephen Avenue, with entertainment to match so we can help cheer on Team Canada! More info to follow.

SpagWestFest - August 20th

Calgary's very own alternative Country Music festival at Olympic Plaza. It's free and family friendly.

Yogathon - August 20th

"Rise For a Cause" is the theme of this one-day yoga event on Stephen Avenue. It raises money for poor children around the world and creates a unique spectacle in the heart of Downtown Calgary.

Reggae Fest - August 18th to 20th

Shaw Millennium is host to this international music festival, which features 3 days of great music. More than a just a music festival, ReggaeFest is a cultural experience that's family friendly.

Calgary Pride - August 26th to September 5th

An entire week of events and activities that promotes equality and celebrates Calgary's diversity, featuring a parade down 9th avenue which culminates with a large outdoor festival at Shaw Millennium Park on September 4th.

Fiesta Filipino - September 2nd to 3rd

Celebrate Alberta's fastest growing ethnic group with this 2 day event at Olympic Plaza.

Honens Festival & Honens Vexations - September 8th to 11th

Calgary's premiere piano festival. This year the festival will kick-off with Vexations, an event that will feature a number of piano players playing the piece Vexations by French composer Erik Satie. Vexations is known in the piano community as the longest piece of music written, and will take an estimated 18 hours to complete, starting early in the morning and ending at midnight. The feat of piano heroism will coincide with a night market on Stephen Avenue so you're encouraged to stop by a check out an excerpt of the performance!

Beakerhead - September 14th to 18th

Calgary's very own festival of Science and Engineering is always tons of fun! Be sure to check out their many ticketed events, as well as free public events like Four to Six and Speakerhead mini-lectures about interesting topics.

YYC Open - September 23rd & 24th

Get a sneak peek behind the scenes at some of Calgary's most famous buildings!

Alberta Culture Days - September 30th to October 2nd

The unofficial end of the festival season! Visit Stephen Avenue and Olympic plaza with a kick off event on Friday, and enjoy numerous events downtown (and around Alberta) that feature all avenues of culture.
Thanks for reading. Just a reminder: dates are subject to change and many festivals are subject to weather considerations. Visit official websites and check social media for full details! E-mail us at [email protected] if we've missed anything!
---