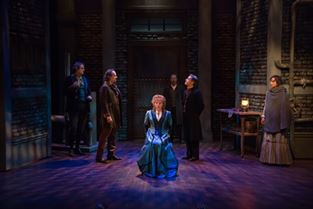 They're baaaacccck. Remember the cast of Vertigo Theatre's Sherlock Holmes and the Hounds of the Baskerville? They return to Vertigo (most of them) for Sherlock Holmes and the case of the Jersey Lily. And it's absolutely worth it. So worth it, that Vertigo has extended the run until June 18th. And this is a show you'll be sorry to miss because of the talent of everyone on stage, the good humour in which it was directed and how entertaining and fun the production is.
Sherlock Holmes and the case of the Jersey Lily by Katie Forgette tells of famous actress Lily Langtry (Chantal Perron), who is being blackmailed over her correspondence and relationship with the Prince of Wales. She goes to detective Sherlock Holmes (Haysam Kadri), helped by his assistant Dr. Watson (Karl Sine) to assist her with her case. Lily has trusted her friend and writer Oscar Wilde (Paul Welch) to lead her to Holmes. The detective finds himself fighting against his nemesis Professor Moriarty (Christian Goutsis) who is assisted by Mrs. Irma Tory (Natascha Girgis) and John Smyth (Michael Tan). Will Sherlock Holmes be able to intervene before the Professor leaks the letters to the press?
This production is a gem. The whole cast is having fun and you can't help but smile as the play goes along. From jokes to the working title of Wilde's new play (The importance of being forthright!) to the interaction between both Lily and Oscar and Sherlock and Watson. It's all delicious fun.
Kadri is steady returning to his role as Holmes and he and Sine have a wonderful chemistry that is quite infectious. Goutsis has a stand out performance as Moriarty with director Craig Hall giving him an epic entrance. Welch is perfect as Wilde, funny and flamboyant. Girgis and Tan are a great evil duo, picking up the comedy with ease. Perron multi-layered as Lily Langtry. David Fraser's set and lighting design fits the mystery genre, providing Goutsis with a table to enter upon and transforms quickly when the play changes location. Andrew Blizzard's sound design and original music gives the whole play that 'Sherlock Holmes' vibe.
It is Hall's great eye for comedy and charm that makes this production great. He plays to the strengths of his cast. He brings out the best out of everyone. He allows Goutsis a comedic entrance and quirks like being unable to open a door and an evil laugh. It all comes together and it's the perfect way for Vertigo Theatre to end their season.
"What a heart pounding evening of fiction!" Oscar Wilde says towards the end of the play. I couldn't agree more.
Vertigo Theatre's Sherlock Holmes and the case of the Jersey Lily has been held over until June 18th. More information is available online.
Phto Credit: Benjamin Laird Arts & Photo
---