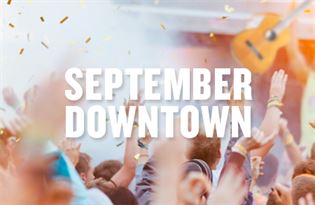 After a sleepy and smokey August, Downtown Calgary is back in business for September! The month is jam packed with events so join us for 30 days of great events!
Starting August 31st we're partnering with Honens to bring music to the Galleria Trees on Stephen Avenue, so keep and ear out for piano music while wandering down the avenue. Later in the month we'll also be bringing in Beakerhead and the Calgary International Film Festival for more music!
Our final Street Piano Series performances take place September 1st and 3rd. These have been a ton of fun, so join us near Caffe Artigiano on 3rd street SW for some fun piano music.
On September 2nd we're partnering with Honens for the Concrete Sonata Pop-Up Picnic. Our picnics have been amazing all summer (when not being rescheduled due to thunderstorms) and this one promises to be no different. We've had such a great time with the downtown street pianos and this year's first Concrete Sonata event with Hong Xu was a great success. The following week there is a series of Concrete Sonata performances with surprise pianist on September 8th, 9th, 10th & 11th.
The next Pop-Up Picnic will be September 16th on Stephen Avenue and will feature programming from Beakerhead! Stay tuned for more details closer to the event!
From September 4th to October 31st we're bringing Nurbox Theatre to several office buildings in Downtown Calgary. The program kicks off September 4th in Bankers Hall on the 3rd floor next to the food court. Check back to see where you can find the Nurbox Theatre in future weeks.
September 5th, 12th and 19th will feature the Generations of Music concert series on the Stephen Avenue Stage. These special Saturday performances feature music from decades gone by including the 1990s, 2000s and the finally the 2010s (so far).
Calgary Pride runs from August 28th to September 7th and you can catch the Calgary Pride Parade down 9th avenue SW on September 6th starting at 12 pm.
Monday, September 21st (rescheduled) is the Really, Really, Long Table Dinner. Tickets are still available for this very fancy, very unique dining experience on Stephen Avenue. Tickets must be pre-purchased so get clicking and get those tickets!
From September 16th to 20th Stephen Avenue will be transformed for Beakerhead. There will be a number of downtown specific Beakerhead events including the Stephen Avenue Four to Six programming and Noon hour Speakerhead lectures.
The Calgary International Film Festival starts September 23rd and goes through to October 4th. This year the CIFF gala will be held at the Jack Singer Concert Hall and feature world-class film programming at Eau Claire Cineplex and Globe Theatre.
September 25th will feature special performances and programming as a part of the Alberta Culture Days kick-off party. Rounding out the weekend, on September 26th and 27th you can check out several downtown locations for Doors Open YYC where everyone has the chance to go "behind the scenes" at some of Calgary's most interesting places.
-
That's it for now! Crave more downtown? Check out our Soundtown Calgary page to hear our exclusive summer jam, and watch the video! There's even a contest.
---