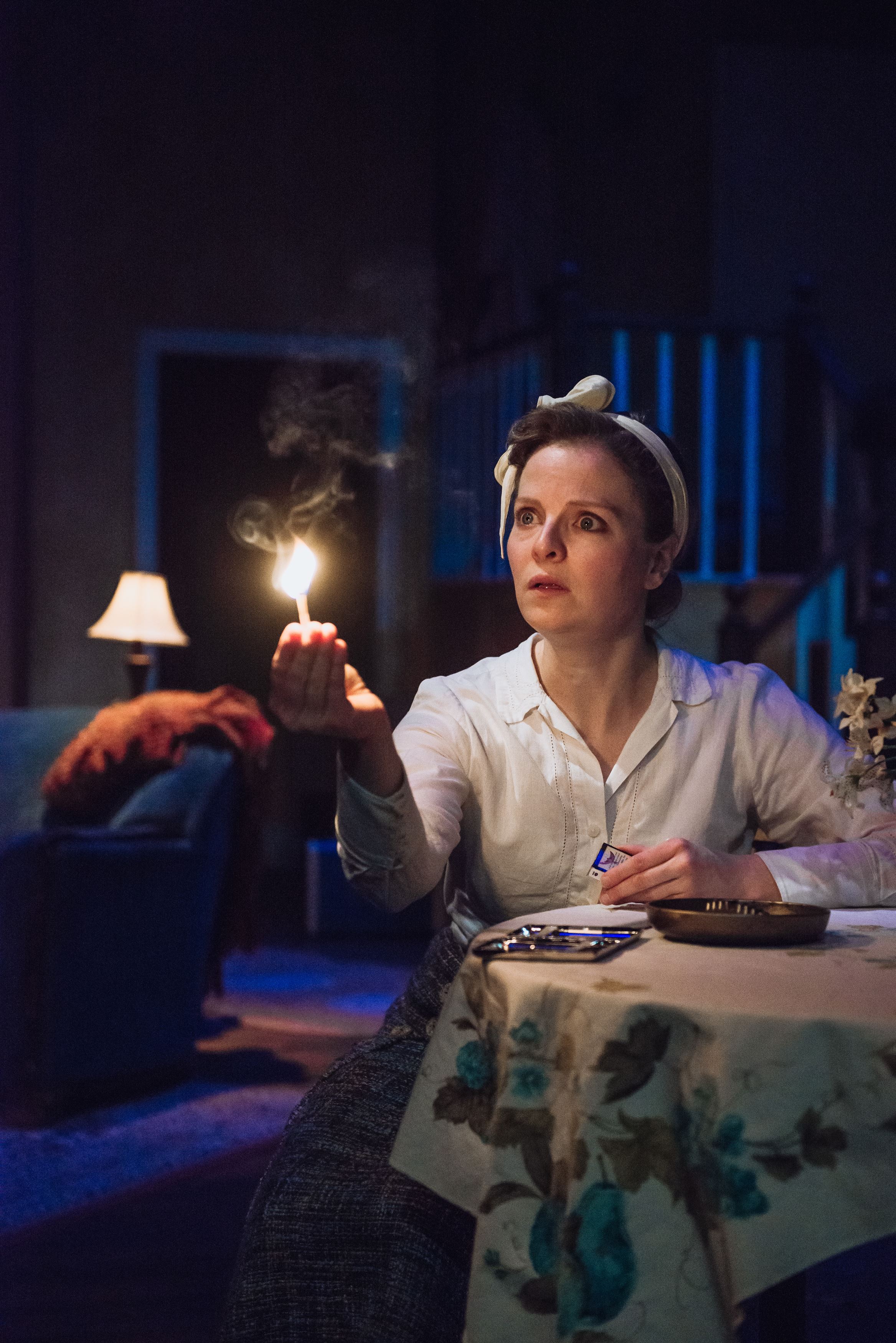 There are some stories that the world becomes enthralled with, especially in the mystery genre. Frederick Knott's Wait Until Dark is one of those stories. The original 1966 Broadway production was adapted into a film starring Audrey Hepburn and Broadway revived the production, adapted by Jeffrey Hatcher in 1998. In Calgary, Vertigo Theatre produced the play in 2006, and now have revived it as part of their 40th season.
This production puts some strong people in the driver's seat. Simon Mallett directs, Anna Cummer stars as Susan, the lead who has lost her sight, and the men fill out the menacing with Michael Tan as Roat, Stafford Perry as Mike, and Paul Cowling as Carlino. Tyrell Crews makes brief appearances as Sam and Emma Ross rounds out the cast as Gloria.
Wait Until Dark is a thriller and Mallett builds the tension nicely even though there are some plot holes in the script. But the thrills and scares are there so the audience doesn't think too hard about it all adding up. The plot is elaborate though the con is simple and this makes the play all the more fun. Especially if you like feeling scared. The last two minutes of the play are in complete dark and the action on stage is so strong that it's almost too much to watch.
Cummer is at her best as Susan and if there is anyone who is most convincing running around a stage in pure terror, without her sight, it's Cummer. Perry is a standout performance as he has the hardest job as Mike and is successfully dynamic. Tan is terrifying and he absolutely needs to be for this play to work.
David Fraser's set design is thoughtful as it has to make sense for Susan to be able to navigate. Alison Yanota's lighting design and Andrew Blizzard's sound design assist in create that foreboding atmosphere.
Vertigo Theatre's production of Wait Until Dark is thrilling and terrifying and being this afraid has never felt this good.
Vertigo Theatre's Wait Until Dark runs until February 19th. More information is available online.
Photo Credit: Citrus Photography
---