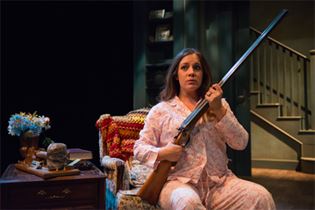 Photo credit: Benjamin Laird Arts & Photo
Peter Colley's play I'll be back before midnight has hit a bit of a milestone. The Globe and Mail called it "the most produced Canadian play ever." It's Western Canada Theatre's 40th anniversary and audiences of that theatre company have said it was one of their favourite productions. It makes sense that Colley's play is the opener of Vertigo Theatre's season, a play they are co-presenting with Western Canada Theatre.
I'll be back before midnight is the tale of Greg Sanderson (David Van Belle) who rents a nice place in the country from farmer George Willowby (Paul Cowling) so that his wife Jan (Brieanna Blizzard), who has just got out of the hospital, can come home and recover. Except that Jan find out that Greg's sister Laura (Alana Hawley-Purvis) is visiting, though Greg knows they don't get along.
From the beginning there is something not quite right about everything. The audience has a lot of questions. Like are Greg and Laura really siblings? And what actually went on in their past? Why does George just walk into the house all the time?
In the first half, the play seems to be laying the groundwork. But it's hard to tell what is fact and what is fiction. What is going on in Jan's head and what is actually playing out in front of her eyes?
Once the play goes into the second half it all unravels from there. The scenes of fright go on a little longer than they should and the audience starts to feel like they are trapped in a bad horror film, complete with lumbering men with axes and masks on. Because there are so many turns in the plot in the second half, director Daryl Cloran has trouble keeping the audience in a perpetual frightened state. It goes a little too over the top. The loose ends of the plot don't really tie together in the end.
Blizzard has the hardest job in the play because she is frightened and stressed and panicked the entire play. It's pretty irritating, but only because that's how Jan was written. Hawley-Purvis does a great job as the sister-who-may-be-more. She is conniving and passive aggressive and it's great to watch. Van Belle has the most uneven role to play and he does his best. Especially in a scene where he works out in the living room to Micheal Jackson's music, in a comical fashion.
Scott Reid's set design is something to talk about. He manages to make a country home feel unwelcoming and empty but still have it look like it could be a nice home. Except that throughout the play the wallpaper peels off and holes start appearing at the top of the walls. Jonathan Lewis' sound design contributes to the thriller and heart stopping aspects of the play, but sometimes is a little much. There is a little too much wind when the killer might strike, that is winds up being distracting.
I'll be back before midnight is a production for a cheap fright. The ones that make you jump from your chair. But the story doesn't quite satisfy because the plot points don't make complete sense. And the frightening aspect goes on a little too long. This production isn't quite the milestone it is expected to be.
Vertigo Theatre's production of I'll be back before midnight runs until October 18th. More information is available online.
---