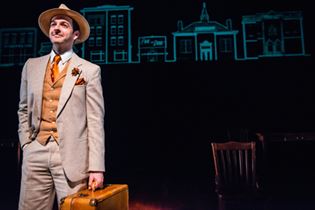 Ellery Smith, the writer who has set foot in Wrightsville, a small town in New England to write his new fiction novel, says there are three things that a novel needs: setting, characters and a crime.  Joseph Goodrich's play Calamity Town certainly has all that. The play is a world premiere for Vertigo Theatre and is based on the novel by Ellery Queen (a pen name of two cousins, Manfred B. Lee and Frederick Dannay). The play is a fascinating production with a dynamic cast that leaves the audience thoroughly entertained, though there are a couple holes in the plot.
Calamity Town tells the story of Ellery Smith (Tyrell Crews) who has come to live in Wrightsville, where he will write his new novel. There is no where to rent in Wrightsville, but a room with the Wrights, who welcome Smith with open arms. There is John F Wright (Christopher Hunt) and his wife Hermione Wright (Karen Johnson-Diamond) with their three daughters, Nora Wright (Julie Orton), Lola Wright (Jamie Konchak) and Patty Wright (Lindsey Angell).
Patty immediately takes an interest in Smith, though she is with Carter Bradford (Kyle Jesperson). Kevin Rothery plays a handful of roles as the Wright's lawyer Eli and the Realtor Pettigrew, who tells us the story of how Nora was engaged to a bank teller Jim Haight (Curt McKinstry) but things didn't work out and he skipped town. The play also has Konchak playing Rosemary Haight (Jim's sister) and Roberta Roberts, a radio host.
The tension builds when Jim comes back and he and Nora get married and the family supports her decision to take him back even though she was devastated when he left. But then it seems as if someone is trying to poison Nora, as she keeps getting sick. And there are letters that also serve as a motive.
This production is co-directed by Craig Hall and Nathan Pronyshyn and they have made decision that ensure that the telling of the story is smooth. When Smith is telling the audience about his investigation, the scene freezes in place. It is a powerful storytelling tool that allows the audience to focus on Smith. John Webber's set and lighting design along with Jamie Nesbitt's projection design adds another dimension to the production. The projections are in black and white and the set changes in the background, moves the entrance to be the door of a house, or of a balcony.
It's a fascinating way to stage a play and it works very well. With this complex element, Webber elected to have the props on set be simple and it allows the play to breathe. Only a few wooden chairs adorn the stage and when the play wants to put emphasis on a scene, all the actors speak at once, in one voice. Deitra Kalyn's costuming sets the narrative in 1940, America and it shines through in the clothing and the hairstyles.
The cast is what also carries the story and they don't miss a beat. Crews is likable as Smith and we feel safe as he guides us through the narrative. Orton is strong as Nora and Konchak does a good job as many characters but doesn't seem to change her mannerism when she switches. Hunt displays his versatility and ability to draw the comedy out of a drama. Jespersen is also quite strong in his role as Bradford, showing his inner conflict.
Calamity Town isn't without fault. Once all is revealed there are aspects to the resolved mystery that doesn't really hold water. But the production is sharp and dynamic that shows that the directing duo of Hall and Pronushyn is quite a great pairing. They should do it more often.
Vertigo Theatre's world premiere of Joseph Goodrich's Calamity Town runs until February 21st. More information is available online.
Photo Credit: Tim Nguyen
---