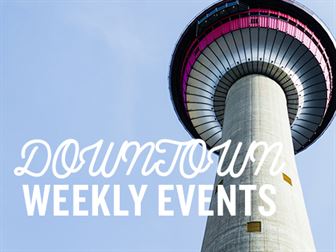 It's Calgarys busiest week, and there is certainly no shortage of entertainment. From line dancing in Olympic Plaza to Blues on the Avenue, downtown is going to keep you moving all week long.
FLUOR ROPE SQUARE
July 9 - 14, 2018
At Fluor Rope Square, every day starts with a bacon pancake served hot off a chuckwagon or smokie.  We follow up with great daily FREE activities including live entertainment, square dancing, clowns, Old Time horse drawn rig rides and the Indian Parade.
Fluor Rope Square's Stampede-style entertainment includes marching bands, dancers, singers, fiddlers, friendly mascots plus so much more ! Learn more about our famous chuckwagon breakfast, performers and other entertainment, including the Fluor Great Western Flapjack Flip and Lammle's World Champion Hat Stomp Competition.
YOU could even be invited to compete in the Lammle's World Champion Hat Stomp Competition or Fluor Great Western Flapjack Flip!
MONDAY BLUES SERIES
July 9, 2022
Curated by the Calgary International Blues Festival.
Bring your lunch and listen to a different blues artist every week at the Downtown Calgary Summer Stage. All performances are free and family friendly.
Located between Centre Street and 1 Street SE, right outside the Telus Convention Centre.
FREE KINGS OF LEON CONCERT
July 14, 2022
AURORA ILLUMINATION SERIES PRESENTS
Grammy Award-winning rock band Kings of Leon, will headline a free concert during the Calgary Stampede as part of the Aurora Illumination Concert Series, a summer-long celebration that will ignite every corner of Canada with free musical performances.
STEPHEN AVE'S STRONGEST MAN
July 14, 2022
The Alberta Strongman Competition is back, this year taking place on Stephen Ave! On Saturday, July 14th, between 1 St SE and Centre St, the event will showcase some of the world's strongest competitors.
Participants will be competing in the following events: yoke, loading race, overhead medley, wagon wheel axle bar deadlift, and atlas stones.
Turkish Festival
July 19 - 22, 2018
Visitors will get an opportunity to celebrate, learn, and savour Turkish hospitality, culture, heritage and cuisine.
Festival
July 20 - 22, 2018
Fiestaval is a free and family-oriented, multicultural arts and entertainment festival highlighting the Latin American Culture
Folk Fest
July 26 - 29, 2018
The annual Festival is a four-day musical extravaganza. 70 artists from around the world perform on six daytime and two evening stages.
Pet-a-palooza
July 28 - 29, 2018
Calgary's favourite pet festival will have running of the bull(dogs)s, wiener dog races, a puppy stampede, and dock diving!
View more events
If you want to see more events happening this week and the weeks to come, visit our Event Calendar.
Share your event
Have an event happening downtown? We want to hear about it! Either Add Your Event or email us at [email protected]
---