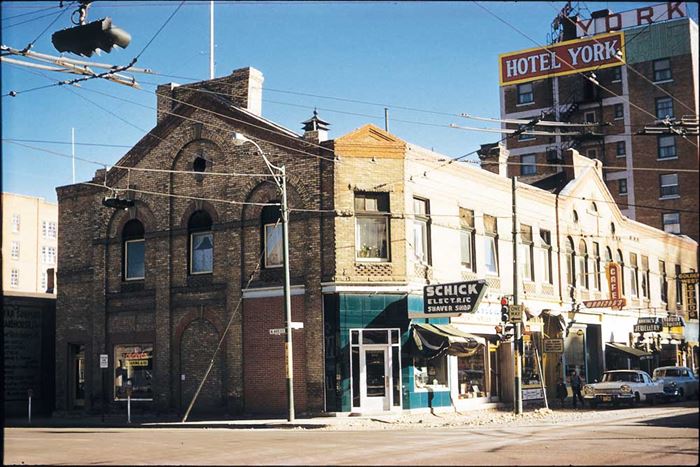 Hull Opera House and York Hotel (Retrieved from the Calgary Public Library)                                                                                                                      
As cities grow, skylines change. Postcards must be reprinted, tourist brochures re-formatted, and new landmark buildings imprinted into the collective imagination. The title of "most recognizable building in Calgary" has changed over the years. At one time, the Calgary Tower was the pinnacle of the city's skyline, though now if you ask, the crescent-shaped Bow Tower is likely the first building that comes to mind.
The Bow Tower dominates the Calgary skyline, eclipsing the tourist-mecca Calgary Tower by over 100 feet. Located at 500 Centre Street, the area tells a story of music and modernization. In the early 1890s, the Hull Opera House, built of sandstone and brick, stood in the 600 block of Centre Street. The Opera House was commissioned by philanthropist William Roper Hull, whose name lives on through Calgary's Hull Services.
The Hull Opera House played host to parties, theatre, dances, fundraising galas and balls. As the city grew, the Opera House was overshadowed by other venues, and, by 1906, had been converted to retail space and apartments.
Postcard of York Hotel (Retrieved from the University of Alberta)                                                                                                                                            
In 1930 the York Hotel opened at 636 Centre Street, right next to the Opera House. The upscale hotel became a popular spot, and as cars came into vogue, the York needed parking.  In 1963, the Hull Opera House was demolished to provide parking for guests of the 180 room property.
The York at one time housed Calgary's radio station, CFCN, the Voice of the Prairies. The most powerful western Canadian radio station, CFCN was the first radio station in the country to sell advertising space. Acts like The Gamboliers trio, made up of Eddie Clemens, Allan E. Crawford, and J.E. Gerken, performed live on air for local listeners.
"The Gamboliers" trio (Retrieved from the Glenbow Museum)               
Eventually the York too fell into disrepair, suffering fire damage in the 70s and being turned into low-income housing in the early 90s. In 2007, the building was dismantled, making way for the Bow. The original plans sought to incorporate the Art-Deco façade into the new building, but for now, they've been preserved, hopefully for eventual reassembly.
The Hull Opera House was lost to modernization, making way for the York to eventually house a piece of Calgary music history. One musical piece of history gave way to another, and now, in their place, the city has a new landmark.
---
This blog is part of a series created to compliment our Downtown Through the Decades program on the Downtown Summer Stage. Each weekly performance runs from 1pm – 4pm on Saturdays on Stephen Avenue, and highlights a popular musical genre from a specific decade in Calgary's history. This week we have Blake Berglund performing 1990's Roots Country. While you stay tuned for our 1990's blog next week, take a look at our other decades here.
---