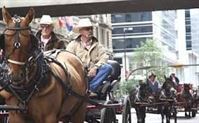 This week is dedicated to all things Stampede from parades, breakfasts, shopping and. . .  Flash mobs? If being away from the grounds is not enough, be sure to check out Event Calendar for more options. If celebrating Stampede is more your speed, read on! 
FLUOR ROPE SQUARE 2017 - July 8 and 10-15, 2017
Do you want to have fun? Let's start Stampede Downtown! 
The Calgary Stampede Downtown Attractions Committee (DTA) wants all Stampede visitors to have a hand clappin', toe appin' and belly bustin' good time!
Come join us downtown at Fluor Rope Square in Olympic Plaza and along Stephen Avenue. The friendly and knowledgable Downtown Attractions volunteers at our information booths are happy to assist you and answer any questions, so that you can get into the Stampede spirit!
At Fluor Rope Square, every day starts with a bacon pancake served hot off a chuckwagon or smokie. We follow up with great daily free activities including live entertainment, square dancing, clowns, Old Time horse drawn rig rides and the Indian Parade.
To view the full line-up of featured entertainment and map, click on the Fluor Rope Square 2017 Event Schedule.
*Schedule may be subject to change without notice. There are no events on July 9 and 16.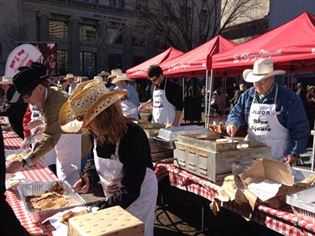 DOWNTOWN STAMPEDE BREAKFASTS - July 10 -15, 2017
Breakfast is the most important meal of the day and a sure way to show our Western hospitality!
There are no shortages of breakfasts this year with 10+ breakfasts happening throughout the downtown core. Below are a list of just some of the Stampede Breakfasts happening downtown:
Premier's Annual Stampede Breakfast 2017 – McDougall Centre, 455 6 Street SW (July 10 @ 7:00 am – 9:00 am)
Simons Stampede Breakfast – 304 8 Ave SW #100 (July 10 starting @ 10:30 am)
The ShopNetTC Stampede Breakfast! – Olympic Plaza, 237 8 Avenue SE (July 10 @ 7:30-10:00 am)
Calgary Parking Authority Stampede Breakfast – 620 9 Avenue SW (July 11 @ 7:00-9:00 am)
Stampede Charity Lunch in Support of CUPS –  Brookfield 5th Avenue Place, 420 2 Street SW in West Tower Plaza  (July 11 @ 11:00 am – 2:00 pm) *$2 per person entrance fee will be collected in donations to CUPS.
Bootleggin' Breakfast 2017 – Westin Calgary, 320 4 Avenue SW (July 11 @8:00 am – 1:00 pm)
Scotiabank Stampede Breakfast – Stephen Avenue, 240 8 Avenue SW (July 11 @ 8:00 am – 12:00 pm & July 13 @8:00 am – 12:00pm)
CIBC – 309 8 Avenue SW (July 12 – additional details to come)
LD Express – 230 8 Ave SW (July 14 – additional details to come)
Stampede Charity Breakfast in Support of STARS – Brookfield 5th Avenue Place, 420 2 Street SW in Exterior Plaza (July 14 @ 7:00 am – 10 am) *Suggested $5 donation.
Fluor Chuckwagon Breakfast – Olympic Plaza (July 8, 10, 11, 12, 13, 14 & 15 @8:15 – 10:30 am)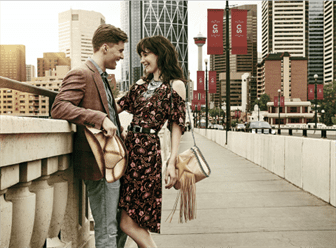 STAMPEDE WITH THE CORE - July 7 - 16, 2017
Downtown look. Cowtown feel.
If you're heading downtown to celebrate Stampede Season, be sure to check out The CORE's calendar of events and activities. They have something for every day of Stampede.
Friday, July 7 - Dan the One Man Band
Saturday, July 8 - Balloon Twisting for the kids
Sunday, July 9 - Photography exhibit and silent auction
Monday, July 10 - Simons Stampede Breakfast with Chinook Line Dancers.
Tuesday, July 11 - Stampede Fashion show by PARK's Kara Chomistek
Wednesday, July 12 - Hy's Stampede Breakfast and caricaturist
Thursday, July 13 -Tucker, the trick horse, is at the CORE
Friday, July 14 - Return of the caricaturist
Sunday, July 16 - Stampede Detox Zumba Class
For more details on each of the events and activities happening during Stampede at The CORE, click on More.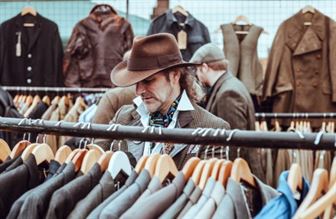 STAMPEDE NIGHT MARKET - July 14, 2022
Calgary's first annual Stampede Night Market is coming to the heart of downtown Calgary, Barclay Parade in Eau Claire.
The Stampede Night Market will feature local designers and vendors selling handmade, vintage and unique items. The market will also have local eats, dancing and so much more.
Stampede Night Market will be a great addition to all visitors looking for unique gifts for their love ones!
Barclay Parade Eau Claire will be closed off for this annual event.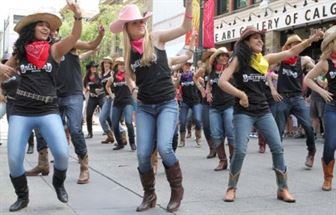 STAMPEDE BOLLY FLASH MOB 2017 - July 15, 2022
Wanna get involved in the funnest flash mob to hit Stephen Avenue? Sparq Productions is excited to pull those cowboy boots up and get working on their 6th Annual Bolly Stampede Flash Mob happening on Saturday, July 15 at around 1:00pm.
This year their anticipating 150 enthusiastic Calgarians to help fill the streets with an awesome group of people!
Here's a glimpse of 2016's awesome flash mob if you still need any convincing (Videography by: Sohail Kashif).
---