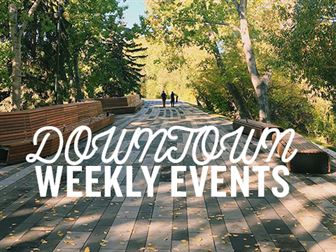 This fall season downtown Calgary is serving you food, fun, and an opportunity for feedback. Keep reading to see whats going on this week!
STEPHEN AVENUE: STUDYING PUBLIC LIFE + PUBLIC SPACE
October 1 - 9, 2018
The City of Calgary is undertaking a Master Plan for Stephen Avenue, with the intent of enhancing our city's most iconic and memorable street. As one of Calgary's premiere landmarks and destinations, a Master Plan is needed to:
Extend the energy and liveliness of the pedestrian mall westward along 8 Avenue S.W.;
Establish a new vision for Stephen Avenue that creates opportunities for private investment and redevelopment;
Create short and long-term strategies that can be implemented over time to make Stephen Avenue better for Calgarians and visitors.
As a first step, The City is reaching out to citizens, stakeholders and visitors to better understand the public life and public space of Stephen Avenue. We want to know what people enjoy or like about the Avenue, what could be improved, and what the opportunities are. We'll be studying the public realm, engaging with citizens, and discussing a broad range of topics including: activities and events, public safety, social issues, economic vitality, mobility, history and placemaking.
RIVERVIEW ARTISTS SHOW & SALE
October 1 - 5, 2018
Location: Gulf Canada
Original artwork by 12 local artists will be featured in this upcoming art show and sale. The paintings are varied in style and technique, reflecting the unique creativity and inspiration of each artist. There will be a chance to win an original painting created at one of our Shared Vision events. An artist will be in attendance from 9am till 4pm.
FALL POP-UP FOOD MARKET
October 3, 2021
HomeSpace and our sponsor BMO believe housing is a right, and with that - we also believe food is a right! Hand in hand with housing insecurity comes food insecurity for many Calgarians. That's why we're bringing our community partners and friends together for a free, public pop-up food market!
DIG into:
- Good eats + refreshments
- Cooking demos by Chef Sara
- Live music by T. Buckley
SALOON: A MUSICAL ACROBATIC ADVENTURE
October 6, 2021
Positioned at the heart of the renewal of circus arts, Cirque Éloize has been creating moving performances filled with magic and emotion since 1993 and has become one of the leaders in contemporary circus arts.
Arts Commons Presents Cirque Éloize's latest adventure, inspired by the rich legacy of the Wild Wild West. America is expanding. The railroad is stretching westward to lands of untold promise. In the middle of the desert, a town comes to life. The Saloon doors swing open to reveal a motley cast of individuals, each with a tale to tell.
In Cirque Éloize's Saloon, the timeless tunes of Johnny Cash and Patsy Cline set the traditional, epic scene for a fast-paced show with no shortage of audience thrills. Swing open the Saloon doors and enter a mythical world created by live music and the exhilarating pace of spectacular performances!
Rosencrantz & Guildenstern are Dead
October 9 - 21, 2018
This Tony Award winning play lands on the ATP stage in a spooky and imaginative new production by Calgary's own Shakespeare Company that daringly casts two women in the title roles.
Calgary Career Fair and Training Expo
October 16, 2021
Learn about exciting new career options and obtain valuable information about how to earn the credentials and diplomas you need to get the job you want!
Peter and the Wolf
October 21, 2021
With instruments serving as characters, and the entire story brilliantly narrated, this is a time-honoured children's introduction to the Orchestra.
View more events
If you want to see more events happening this week and the weeks to come, visit our Event Calendar.
Share your event
Have an event happening downtown? We want to hear about it! Either Add Your Event or email us at [email protected]
---