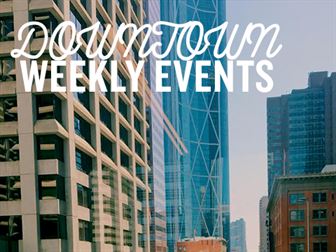 You thought the festivals were over? Not quite yet! Downtown Calgary has some heavy hitters this week, with events like Beakerhead and CIFF taking over the core.BEAKERHEAD
Beakerhead brings people together at the crossroads of art, science and engineering.
Year-round programming culminates in a five-day citywide spectacle with more than 60 events centred around delightfully bizarre engineered installations and artworks.
Who should attend? Everyone! It doesn't get any more inclusive than this. Social and cultural barriers, be gone.
145,000 people took part in 2017, with 2018 shaping up to be the biggest year yet!
Head to our online calendar for a full listing of the downtown exhibitions
CALGARY INTERNATIONAL FILM FESTIVAL
The Calgary International Film Festival is a 12-day showcase of up to 200 multi-genre feature and short films from Canada and over 40 other countries. The festival hosts gala events, screenings, special presentations, and a Behind the Screen series that emphasizes unique and exciting ways for filmmakers and fans to interact. Calgary Film is now the largest film festival in Alberta and is the sixth largest in Canada.
Passes on Sale at: https://calgaryfilm2018.eventive.org/passes/buy
PARK(ing) Day is an annual open-source global event where citizens, artists and designers collaborate to temporarily transform metered parking spaces into "PARK(ing)" spaces - temporary public spaces. The project aims to encourage critical thought and to spark our imaginations about how public spaces can be used. Come down and see what people have come up with!
The AIDS Walk & Run is a vibrant, fun event where people from across Calgary come together to show support and fundraise for those affected by HIV. On September 23, 2021 the event will begin in Eau Claire Plaza with live music, family friendly entertainers, African dancers, Indigenous performers, and more. Once the Walk & Run kicks off, the path will take you along the beautiful Bow River and loop right back around to the Plaza, where you can enjoy a delicious complimentary lunch with your team, and try the new beer garden!
Gotta Minute Film Festival
September 24 - 30, 2018
Celebrating 5 years, the Edmonton-based Gotta Minute expands into Calgary with films screening in the CTrain Transit System and Calgary International Airport.
Park Luxe
September 29, 2021
A luxury art and fashion show featuring some of Canada's premier high end fashion designers and artists, designed to connect Calgary's sophisticated fashion and art lovers with the amazing talents that produce them.
Fall Pop-up Food Market
October 3, 2021
bringing our community partners and friends together for a free, public pop-up food market!
Dig into good eats, refreshments, and cooking demos by Chef Sara.
Calgary Career Fair and Training Expo
October 16, 2021
Learn about exciting new career options and obtain valuable information about how to earn the credentials and diplomas you need to get the job you want!
View more events
If you want to see more events happening this week and the weeks to come, visit our Event Calendar.
Share your event
Have an event happening downtown? We want to hear about it! Either Add Your Event or email us at [email protected]
---