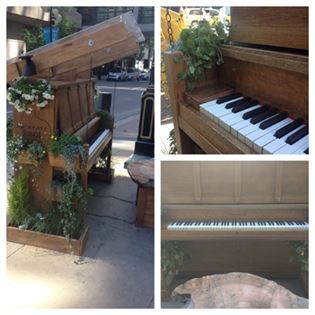 Since 2012, the Calgary Downtown Association has commissioned street pianos to bring some music to Downtown. This year, in conjunction with Moffatt Pianos we've kicked it up a notch with the third annual street piano.
Previous street pianos from 2012, and 2013 were located on Stephen Avenue, with 2014's iteration residing on the corner of 6th Avenue and 3rd Street near Caffe Artigiano and the 1894 Calgary Clock.
Each year the street piano has become more adventerous and exciting to share with Calgarians and Tourists alike. This year, a theme of growth pairs the natural grain of wood of the piano with the living plants housed in and around the instrument.
The piano's creator Jesse Moffatt was honored by the Government of Alberta as a Flood Hero for 2013. Him and his team were able to save priceless musical artifacts from flood damage during the June 2013 disaster that struck Calgary.
Feel free to stop by the piano and play. Even if you aren't musically inclined we suggest taking this work of art for a quick spin and hearing how the sounds resonate through the urban atmosphere. or you can do like we did, and bring your talented friends down and make them perform for you!
For 2016 Downtown Calgary is featuring 3 pianos. The Woodlands piano returns (with some enhancements) to 3rd street & 6th avenue SW, Piano Bar will be located inside the Eau Claire Market for year-round music rain or shine, and the Wee Library Book Piano will be located in the plaza at 5th Avenue Place on the corner of 5th avenue and 2nd street SW.
Enjoy the street piano, and if you're posting photos or videos on social media be sure to tag #IAMDOWNTOWN, @DowntownCalgary (on Twitter and Instagram) and @ArtCasePiano
---